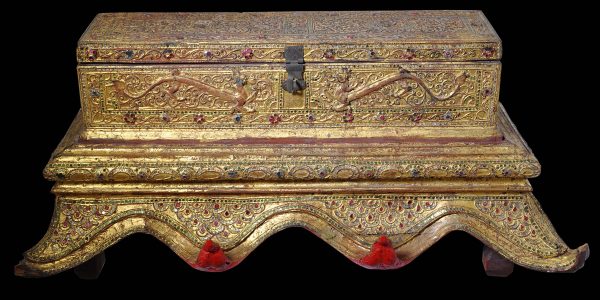 2651
Enquiry about object: 2651
Burmese Gilded & Lacquered Manuscript Box & Stand (Sadaik)
Burma circa 1850
length: 83cm, height: 38cm, depth: 39cm
This manuscript chest or sadaik sits on an elaborate, winged stand. It is of teak wood and is decorated with gilded (gold leaf) molded relief work, a technique known as thayo, and inlaid with small foil-backed pieces of glass (a process known as hman-zi swei-cha). The foil is silver, red and green.
The stand is highly decorative with a dramatic crenulated edge which incorporates upturned 'fins'.
The interior of the box and underside of the stand are decorated with red lacquer. The back of the chest and stand have not been decorated and are left unadorned: presumably, it was intended that the chest would be stored against a wall.
The box has a hinged lid, and the stand sits one four short feet.
The box is decorated with floral patterns to the top and sides. The long side that faces to the front is also decorated with two Burmese dragons (to-naya) with long thin bodies.
Such chests were used in monasteries to store precious religious manuscripts away from the harm of mice and water. This example was designed to hold a single kammavaca text. Sadaiks were commissioned to be donated to monasteries or were used in the households of important officials and the wealthy.
The presence of the stand is important – usually the stands are lost. There are age-related losses here and there to the lacquerwork, there are losses to the outermost fins on the stand, and the undersides of the two front fins have been repainted with red although this seems to have been done a long time ago. The latch is also worn and has losses. Overall, the box and stand is highly decorative. The use of dragons in the decoration is particularly unusual and appealing.
References
Fraser-Lu, S., 'Sadaik: Burmese manuscript chests', in Arts of Asia, May-June 1984.
Fraser-Lu, S., Burmese Lacquerware, White Orchid Books, 2000.
Isaacs, R., & T.R. Blurton, Burma and the Art of Lacquer, River Books, 2000.
Than Htun (Dedaye), Lacquerware Journeys: The Untold Story of Burmese Lacquer, River Books, 2013.