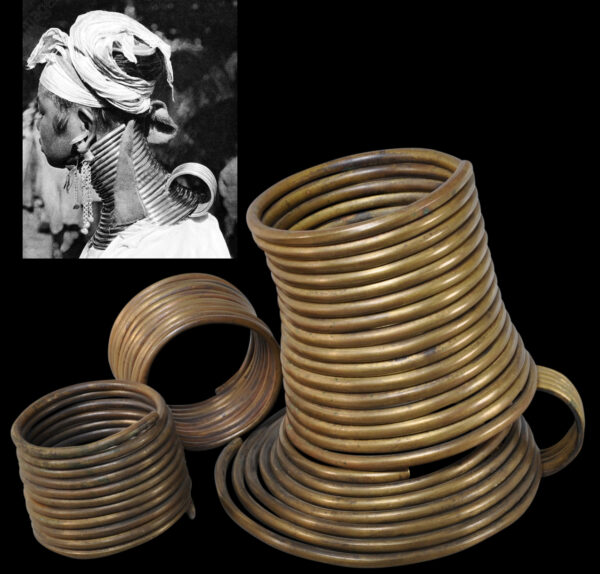 6797
Enquiry about object: 6797
Paduang or Kayan Lahwi (Long-Necked) Woman's Brass Neck Rings & Anklets
Paduang or Kayan Lahwi People, Shan States, Eastern Burma 19th-early 20th century
height (of the longest neck ring): 13.2cm, width (of the wiodest neck ring): 18.3cm, width (of the arm rings): approximately 9cm, combined weight: 4,437g
Provenance
Private collection, UK; collected during colonial times.
This set of neck rings, arm rings or anklets are of thick, coiled brass. The set comprises two sets of coils for the neck (one with a small coils attached, worn at the back of the neck) and a pair of anklets or armlets.
They are simple yet striking with a sheer sobriety about their design. They were worn by the Padaung, also known as the Yan Pa Doung and the Kayan Lahwi.
The Padaung became known as the Long Necked Karen on account of the practice of fitting coils to the necks of the womenfolk. Coils or sections of coils would be fitted to young girls. More would be fitted as they grew older.
Related brass arm coils are illustrated in Geoffroy-Schneiter (2011, p. 212).
The practice of adding coils around the neck had the appearance of lengthening the neck, but in reality, it pushed down the collar bone, and compressed the rib cage.
In 1935, a group of Padaung women visited London. The visit caused a sensation as might be imagined, and certainly conformed with 'Orientalist' views held in Europe at the time, whereby people in Asia could be seen as exotic and 'Other'. (See the image below.)
There is no single explanation as to why the practice arose. One is that it protected women from becoming slaves, making them less attractive to other tribes. The Padaung came to see it as attractive and the practice does still continue among some Padaung.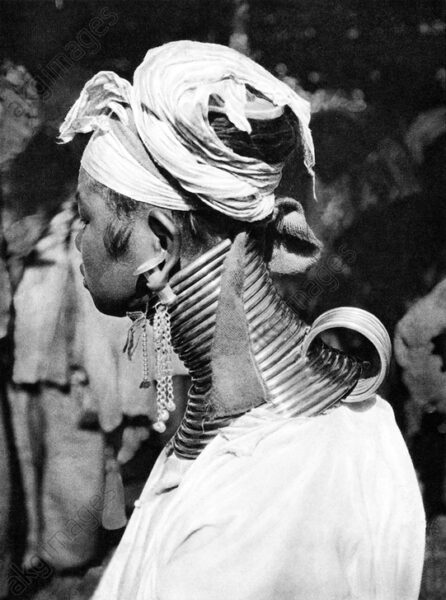 References
Geoffroy-Schneiter, B., Asian Jewellery: Ethnic Rings, Bracelets, Necklaces, Earrings, Belts, Head Ornaments, Skira, 2011.