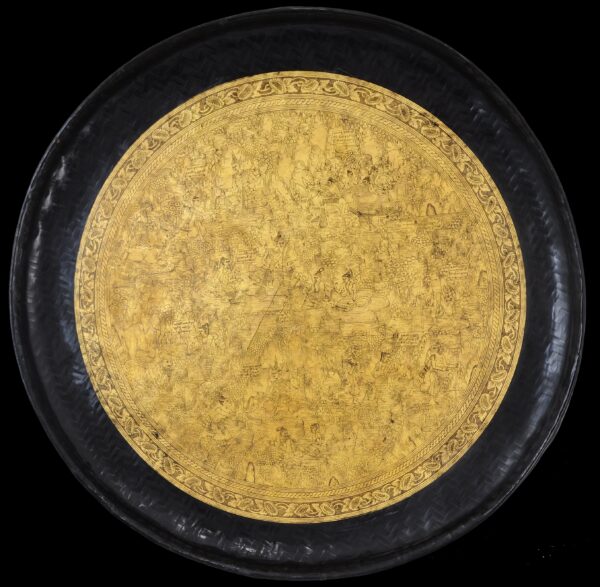 6989
Enquiry about object: 6989
Large, Rare, Burmese Shwezawa Lacquered Platter showing the Vessantara Jataka
Mandalay or Prome, Burma circa 1900
diameter: approximately 94cm
This large platter comprises etched gold leaf and black lacquer, a technique known as shwezawa work, over a woven bamboo strip substrate.
Shown are multiple scenes from the Vessantara Jataka, with little cartouches is Burmese script identifying each scene. The story involves Prince Vessantara who gives away all his possessions and then makes the supreme act of charity of giving away his children to the evil brahmin Jujaka. The prince is shown pouring water over the hands of Jujaka to finalise the deal. Jujaka, who is old and poor, wants the children to act as servants. The tale starts at the top of the platter and then works its way down to the lower right.
The characters in the story are depicted with the Burmese dress of royalty – a tiered headdress for the prince and longyi sarongs for the princesses woven with the luntaya-acheiq pattern reserved for the nobility.
The work is similar to that which has been attributed to the master shwezawa artist Saya Phar (Than Htun, 2013, p. 58).
Its function is decorative and probably was commissioned by a wealthy donor for presentation to a temple or monastery as an act of merit.
The platter is most suited to hanging on a wall and an old wire hanging has been fitted to the back for this purpose.
The platter is in fine condition for shwezawa work. There is little rubbing. There are, however, age-related cracks to the surface, as might be expected. Such a large item executed in shwezawa is relatively rare.
References
Fraser-Lu, S., Burmese Lacquerware, White Orchid Books, 2000.
Isaacs, R., & T.R. Blurton, Burma and the Art of Lacquer, River Books, 2000.
Than Htun (Dedaye), Lacquerware Journeys: The Untold Story of Burmese Lacquer, River Books, 2013.