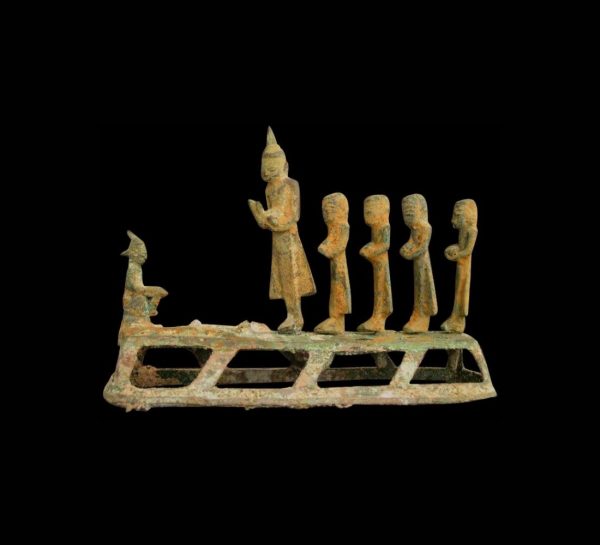 272
Enquiry about object: 272
Burmese Buddha Dipankara with Followers & Sumedha
Burma 18th century
Length: 16 cm
This bronze which has been recovered from a relic chamber of a stupa shows a scene from the first of the previous 24 lives of the Buddha. Four followers stand behind the Buddha Dipankara and before him lies Sumedha prostrate. A flower girl kneels behind Sumedha, holding flowers or a garland. The four followers and the Buddha are detachable. Both the Buddha Dipankara and Sumedha retain traces of gilding, thus suggesting their divinity compared with the other figures.
The Buddha Dipankara visited the town of Divapati. The king of the town bought up all the flowers in the town to honour Dipankara. But Sumedha, the disciple of the Brahmins, was able to acquire some flowers from a flower girl on the promise that he will make her his wife in future incarnations. As Dipankara approaches, Sumedha attempts to cast the flowers before Dipankara, but instead, the flowers float in a circle around his head. In response to this miracle, Sumedha lies in front of Dipankara, spreading his own hair on the ground for the Buddha to walk over. In return, Dipankara prophesies that Sumedha, in future a incarnation will also be a Buddha. Similar relic bronzes are illustrated in Karow (1991, 1991).
References
Karow, O., Burmese Buddhist Sculpture: The Johan Möger Collection, White Lotus 1991.