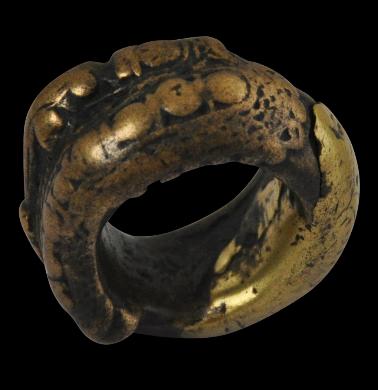 Inventory no.: 4203
Batak Ring
SOLD
Bronze & Brass Singa-naga Ring
Toba Batak People, Sumatra, Indonesia
18th-19th century
outside diameter: 3.6cm, inside diameter: 2cm, (approx): ring size: 9.25 (US), S/T (UK), weight: 43g
This ring from the Batak people of north Sumatra is cast in brass and copper using the lost wax process, and then further engraved. The ring has been cast with a stylised head of a singa (lion), a motif often seen among traditional Batak artforms.
The body of the creature curls around giving form to the ring.
The most notable feature of this ring is its wear – it has been worn so much and for so long that its features are barely discernible. The wear has worn through various metal layers of the ring.
Related examples are illustrated in Sibeth (2102) and van Cutsem (2000, p. 179).
The Batak are an ethnic group whose ancestral land is in northern Sumatra. In the past, they practiced ritual cannibalism. Today they number around four million and form one of Indonesia's larger ethnic minorities. The spectacular volcanic Lake Toba (
Danau Toba) in north Sumatra is the ancestral home to the largest Batak group, the Toba Batak. The lake is the largest freshwater lake in Indonesia.
References
van Cutsem, A., A World of Rings: Africa, Asia, America, Skira, 2000.
Sibeth, A.,
Gold, Silver & Brass: Jewellery of the Batak in Sumatra, Indonesia, 2012.
Provenance
private collection, London.
Inventory no.: 4203
SOLD