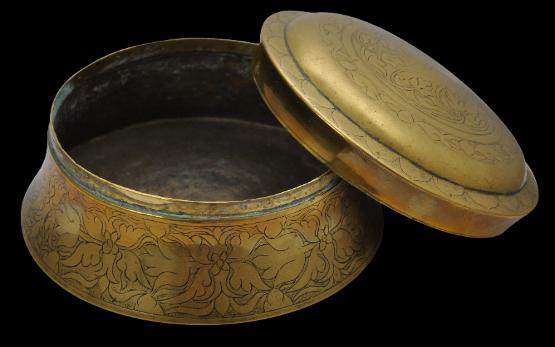 Inventory no.: 3126
Deccan Indian Pandan
SOLD
Engraved Brass Circular Pandan
Deccan, India
17th-18th century
diameter: 18.8cm, height: 10cm
This large brass box and cover was used as a pandan – to hold element of the betel or paan quid. It is from the Deccan in India and dates to the 17th or 18th century.
It has a flared base, concave sides, and a lid that is domed and with an over-hanging rim.
It is engraved around the sides and on the cover with Indian lotus scrolling. The flattened rim of the cover is engraved with lotus petal motifs.
A pandan of similar form, slightly smaller dimensions and with different engraving work but attributed to 17th century Rajasthan is illustrated in Zebrowski (1997, p. 269).
The pandan has a superb buttery patina. It is free of dents, holes, splits or restoration.
References
Zebrowski, M., Gold, Silver & Bronze from Mughal India, Alexandria Press, 1997.Provenance:
UK art market
Inventory no.: 3126
SOLD