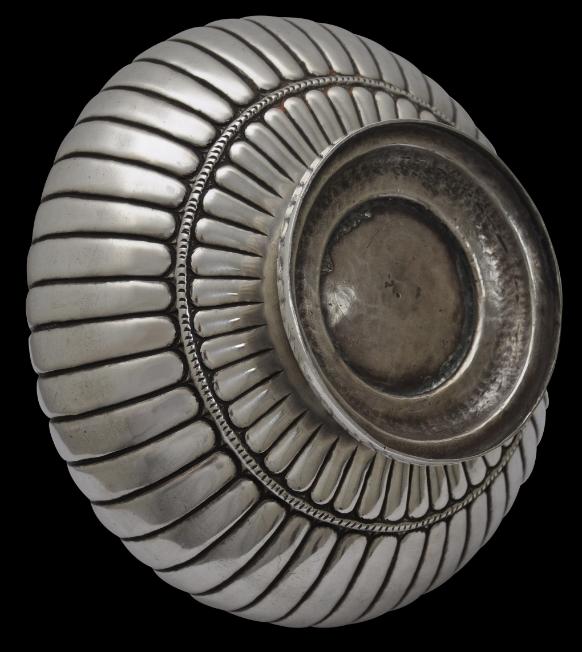 Inventory no.: 4655
High-Grade Silver Fluted Holy Water Vessel (Lota), India, circa 1860
SOLD
High-Grade Silver Fluted Holy Water Vessel (Lota)
India
circa 1860
diameter: 21cm, height: 12.5cm, weight: 712g
This beautifully-made vessel is a lota designed to hold holy or consecrated water, possibly from the Ganges. It is of high-grade silver. Silver was considered a 'pure' metal and thus appropriate for use in Hindu ritual.
It is of flattened, spherical form. It sits on a tiered ring foot, and has a short neck which opens to a wide, lipped mouth.
The sides are gadrooned with 44 fine, elongated, lotus petal-like flutes. A band towards the top is designed to look like an elasticised band as if it is holding a cloth covering up over the body of the vase. A similar band runs around the base.
The vase sits in a perfectly stable manner. It is in excellent condition without repairs or damage. It has an excellent patina and a good 'feel' that has come with age and use.
References
Zebrowski, M., Gold, Silver & Bronze from Mughal India, Alexandria Press, 1997.
Provenance
UK art market
Inventory no.: 4655
SOLD
here