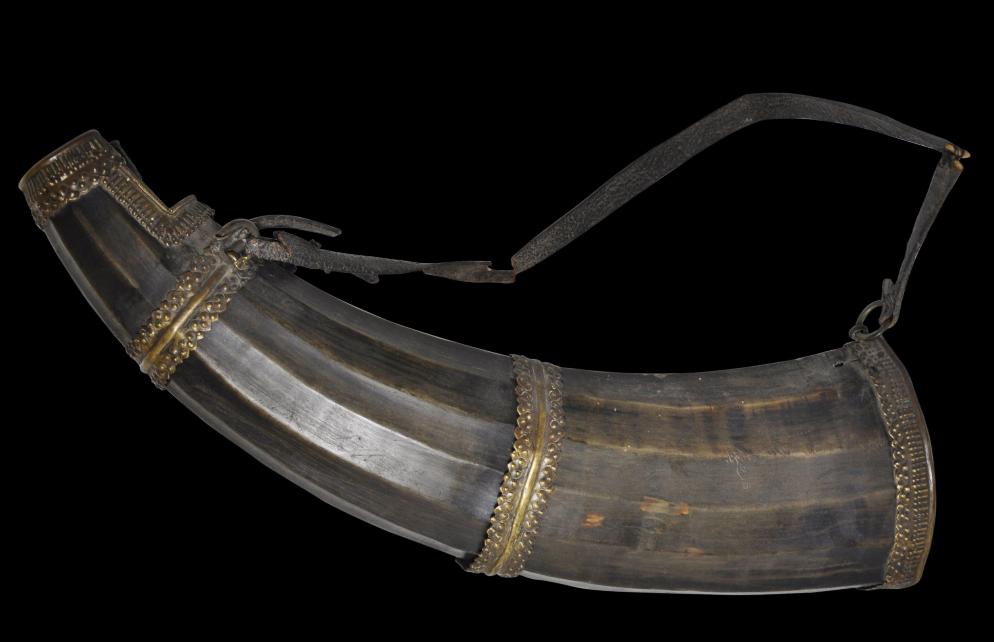 Inventory no.: 3779
Large Drinking Horn with Gilded Copper Mounts, Tibet, 19th century
SOLD
Unusually Large Drinking Horn with Gilded Copper Mounts
Tibet or Wider Himalayan Region
19th century
length: 54cm, diameter: 15cm, weight: 1,524g
This large and unusual horn vessel is most probably a drinking horn used to hold and dispense chaang or barley beer. It has been made from a large, single yak horn that has been shaved so that it has a faceted surface along its top side.
The wider end has been plugged with a disk of wood. The other end has been similarly plugged but leaving a small hole from which the liquid can be poured.
The mouth has then been lined with hammered and repoussed sheet copper that has been gilded, as has the other end. Two bands of similarly decorated gilded copper are strapped around the shaft of the horn.
Two copper rings attached to the horn are attached to the original leather strap to allow the horn to be slung over a shoulder, or the back.
The horn is in fine condition. The two bands around the middle of the horn are loose because of age-related shrinkage of the horn; there are old, minor nicks to the horn here and there; and the leather strap is worn and tired, but this is all to be expected.
Overall, the flask is in fine condition and has very obvious age.
References
Yuri Drohomirecki, pers. comm, August 2017.
Provenance
UK art market
Inventory no.: 3779
SOLD