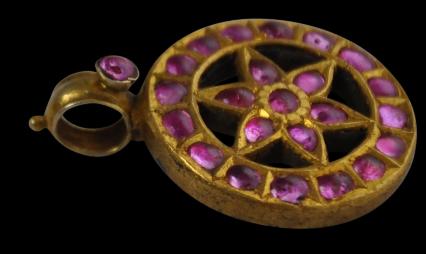 Inventory no.: 3751
Silver-Gilt Pendant set with Rubies, India, 19th century
SOLD
Silver-Gilt Pendant
India
19th century
diameter: 2cm, weight: 4g
This pretty pendant comprising a six petalled flower or pointed star within an open roundel is of gilded (gold-plated) silver and is set with 24 foil-backed semi-precious stones – probably rubies or pink sapphires.
The pendant is from India and dates most likely to the 19th century.
It is stable and wearable.
References
Untracht, O., Traditional Jewelry of India, Thames & Hudson, 1997.
Provenance
UK art market
Inventory no.: 3751
SOLD