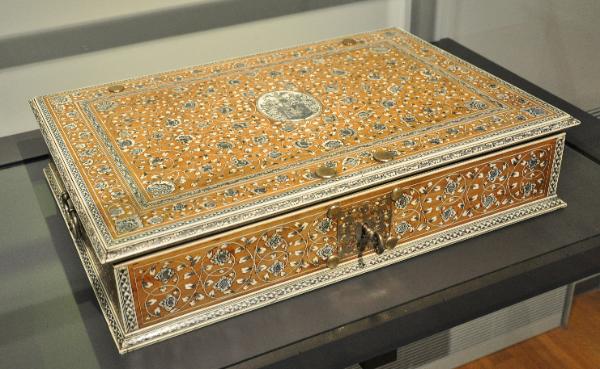 Inventory no.: 2166
Vizagapatam Ivory Box
SOLD
Ivory-Inlaid Ebony Box
Vizagapatam, India
1720-30
length: 13.5cm, width: 9cm, height: 7.5cm
This beautiful rectangular ebony box stands on four turned ivory feet and is inlaid with very fine ivory veneer arrayed in swirling floral patterns. The ivory is engraved and highlighted with lac.
The lid is not hinged but fits snugly over the rest of the box; it fits securely over a moulded lip that runs around the box. It was made in Vizagapatam, on the southeast coast of India, in the first half of the eighteenth century for the European market. Probably, it was intended to be a jewellery box given its proportions, although no lock is present.
Jaffer (2001, p. 181) comments in relation to a related box that, 'The complex design of fine, inlaid scrolling vines and flowers is found on a group of boxes and cabinetware dating from the first half of the eighteenth century, although here the inlay is uncommonly dense.' And so it is with this box – the inlay work is especially fine and complex.
There are no significant condition issues. The box is without cracks or repairs. There is some minor wood shrinkage around the ivory inlay and two of the small turned ivory legs are slightly chipped. But given the age and the material used in manufacture, it is fair to say that this box is in excellent condition.
References
Jaffer, A., Furniture from British India and Ceylon: A Catalogue of the Collections in the Victoria and Albert Museum and the Peabody Essex Museum, Timeless
Books, 2001.
Jaffer, A.,
Luxury Goods from India: The Art of the Indian Cabinet Maker, V&A Publications, 2002.
Tchakaloff, T.N.
et al, La Route des Indes – Les Indes et L'Europe: Echanges Artistiques et Heritage Commun 1650-1850, Somagy Editions d'Art, 1998.
Provenance
UK art market
Inventory no.: 2166
SOLD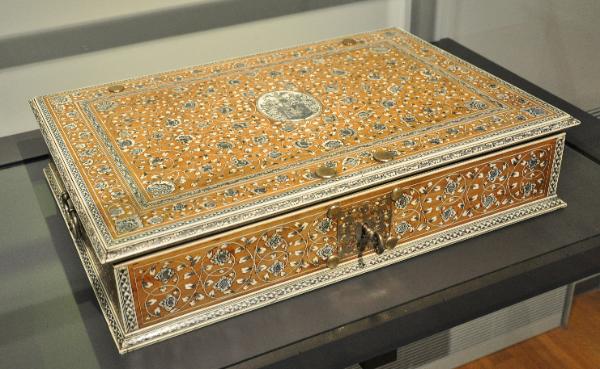 A large Vizagapatam box currently on display in Amsterdam's Rijksmuseum.