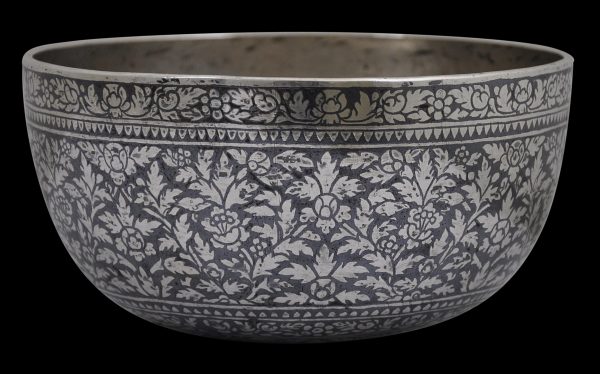 3420
Enquiry about object: 3420
Heavy Thai Niello Silver Bowl
Thailand 19th century
diameter: 15cm, height: 8cm, 447g
This Thai silver niello bowl is unusually heavy for its size. It feels surprisingly and noticeably heavy in the hand. It has a rounded rather than a flat bottom and is probably based on the form of half a large coconut. The exterior is decorated with an interlocking lai dok phuttan (flower) motif. The base is also decorated.
The niello technique, whereby silver is chased and then coated in a black enamel-like substance that is then buffed back to reveal the raised silverwork beneath, is thought to have been introduced to Thailand either by the Portuguese or the Persians. Traders from both countries had an early presence in the Kingdom. Niello work became a speciality of the southern Thai city of Nakhon Si Thammarat.
A similar style bowl is illustrated in Fraser-Lu (1989, p. 42).
The bowl has a fine patina. There are minor, age-related losses to some of the niello, but overall, this is a fine example.
References
Fraser-Lu, S., Silverware of South-East Asia, Oxford University Press, 1989.
Byachrananda, J., Thai Mother-of Pearl Inlay, River Books, 2001.
Naengnoi Punjabhan,  Silverware in Thailand, Rerngrom Publishing, 1991.