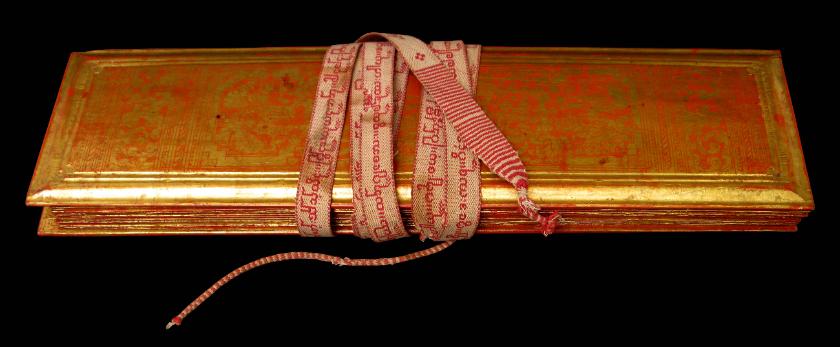 Inventory no.: 368
Burmese Manuscript, Kammavaca, Lacquer Kamavacca
SOLD
Kammavaca Manuscript with Sarsekyo Binding Ribbon
probably Mandalay, Burma (Myanmar)
late 19th-early 20th century
length of covers: 63.5cm; width: 16cm
length of ribbon: 350cm (approx.)
This gilded and red and black lacquered kammavaca manuscript set comprises two wooden covers with shwe zawa work on the outer face and (unusually) the reverse, sixteen leaves, and an embroidered binding ribbon.
The leaves of this example have been fabricated from saffron-coloured textile – most probably the old robes of a venerated monk as was the practice – and then lacquered and cut into shape.
Kammavaca leaves can also be made from lacquered palm leaf, ivory, copper and brass sheets. The covers (both sides) and the outer faces of the introductory leaves are decorated with kinnara and other celestial beings within panels amid complex foliate scrolling borders.
Each leaf holds six lines of Pali script written in square Burmese script in black
magyi zi lacquer made from tamarind seed, between hatched (yazamat) borders. Each leaf is numbered in Burmese script.Kammavaca manuscripts were presented to novice monks and typically contained the rules and instructions of the monastery. Commissioning and presenting such manuscripts earned the laity merit and often were presented to mark important life cycle events such as an important birthday, marriage or birth.
The ribbon in red and white cotton was used to bind the
kammavaca. It has been woven with a prayer called a sarsekyo – the text is in white against a red background. Few of these have survived. They were woven by professional sarsekyo ribbon weavers and also by ladies of rank as an act of devotion. The text of this ribbon exhorts the devotee to give respect to the Buddha, to the Buddhist scriptures and to the Sangha (Burmese monkhood).
Provenance
from a UK private collection
References
Singer, N., 'Kammavaca texts: their covers and binding ribbons', in Arts of Asia, May-June 1993.
Inventory no.: 368
SOLD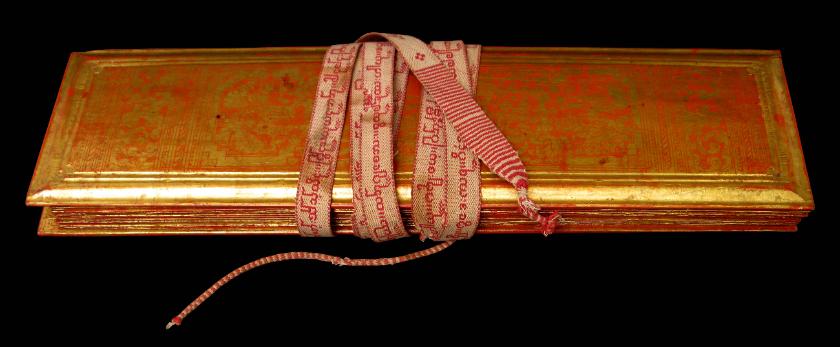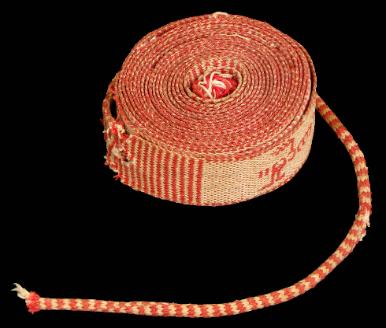 The outside of one of the two wooden covers
The inside of one of the wooden covers
One of the two introductory leaves or pages