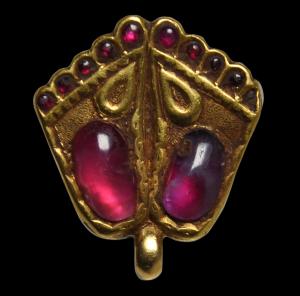 Inventory no.: 2472
Gold Vishnupada
SOLD
Gold & Ruby Vishnupada (Sacred Footprint) Pendant
India, probably Northern India
19th century
height: 2cm, width: 1.9cm, thickness: 0.4cm, weight: 5g
This fine gold pendant of thick, solid gold sheet over a lac core is in the form of Vishnu's double sacred footprint. Each 'foot' is decorated with a large oval-shaped ruby cabochon, and each of the ten toes is decorated with small inset rubies.
The reverse is finely engraved with motifs to denote toes and other symbols.
The pendant has a gold loop at the top to aid suspension.
Sripada (divine footprints) are worshipped in many parts of India, and most particularly in northern India. They are associated with a number of deities. The example here however is associated with Vishnu. Often the sripada motif is worked into stone or cast in metals. Small versions such as the example here are worn around the necks of devotees as sacred, magical charms so that the wearer will receive the deity's protection.
Gold is imbued with a spiritual component in much of India. It is a symbol of the sun and also associated with Lakshmi, the goddess of wealth. Indians, rich or poor, all tried to have at least a small quantity of gold even if just a simple pair of earrings, for gold was coveted (Bala Krishnan
et al, 2005, p. 17).
The item is in excellent condition but with clear signs of significant age and use.
References
Bala Krishnan, U.R. et al, Icons in Gold: Jewelry of India from the Collection of the Musee Barbier-Mueller, Somogy, 2005.
Jain-Neubauer, J.,
Feet & Footwear in Indian Culture, Bata Shoe Museum/Mapin, 2000.
Untracht, O.,
Traditional Jewelry of India, Thames & Hudson, 1997.
Provenance
private UK collection
Inventory no.: 2472
SOLD