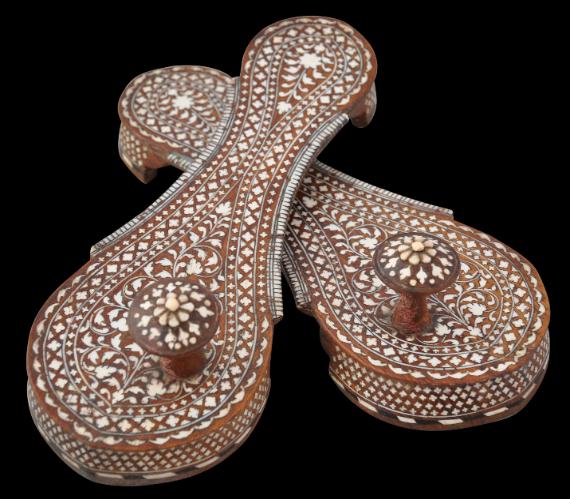 Inventory no.: 1692
Hoshiapur Ivory Paduka Shoes
SOLD
Bone & Ebony Inlaid Paduka Shoes
Hoshiapur, Northern India
circa 1850
length: 25.3cm, width: 9.5cm, height: 7.5cm
This rare pair of shisham wood toe-knob or paduka sandals inlaid with bone/ivory and ebony in the Hoshiapur style is in excellent condition – there are no losses to the ivory, chips to the wood, or repairs. The combination of rarity of style with form, and condition, makes this pair an exceptional item.
Toe-knob sandals usually are associated in Indian culture with the sadhu, the Hindu holy man or ascetic who wanders from village to village. Such sandals represent footwear in its most basic form, stripped down and thus in accordance with the strictures of the life of an ascetic. This pair however is somewhat more elaborate – perhaps they were made for use in rituals as objects of veneration in themselves, or maybe they were intended to be worn in a hamam attached to a wealthy household.
The type of Islamic-inspired inlay work (dant ka kam) shown in these sandals was done in Hoshiarpur in the Punjab, an area that was annexed by the East India Company in 1849. Prior to this time, this type of inlay was used on pen boxes, walking sticks and other small items. Only from the 1880s was it used on larger, more European objects such as wooden coffers, chairs and tables. Although the inlay patterns tend to be Islamic, the inlayers tended to be Hindus. The shisham wood used in these sandals and other types of inlaid wood items was indigenous to the region.
Provenance
UK art market
References
Jaffer, A., Furniture from British India and Ceylon: A Catalogue of the Collections in the Victoria and Albert Museum and the Peabody Essex Museum, Timeless Books, 2001.
Jain-Neubauer, J., Feet & Footwear in Indian Culture, Bata Shoe Museum/Mapin, 2000.
Inventory no.: 1692
SOLD