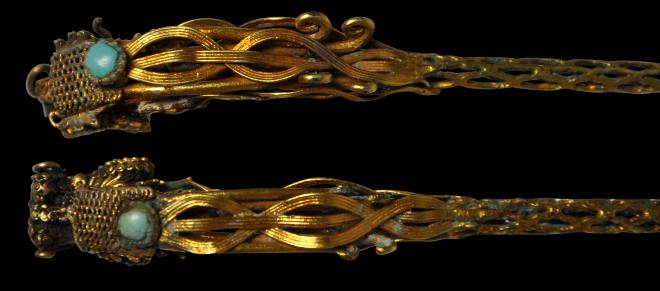 Inventory no.: 2497
Ming Hairpins
SOLD
Pair of Gold & Gilded-Silver Filigree Dragon Hairpins
China
Ming Dynasty, 16th century
length: 16.3cm, combined weight: 22g
This pair of hairpins have heads of dragon form with each head being surmounted by a turquoise cabochon. The heads are of gold filigree detail over gilded silver substructures. The manes of the dragons are particularly impressive comprising multiple, overlapping gold wire strands.
The pierced, almost honeycomb-like shafts, each pf which are of long, tapering form, are of finely worked silver that has been gilded (gold plates).
Openwork hair ornaments such as the examples here were known as
tongzan and were popular from the Ming Dynasty onwards. The filigree and open-work combination allowed the hairpins to have an airiness and lightness which was a delight to the eye but also of practical concern to the wearer.
See cat. no. 56 in Gyllensvard (1953) for a pair of Qianlong gold hairpins that show related construction, and Qujiang Museum (2014, p. 97) for a very similar  pair.
The hairpins here are largely intact, but there are some losses and damage consistent with age and use. They are archaeological and so are relatively fragile.
References
Gyllensvard, B., Chinese Gold and Silver in the Carl Kempe Collection, Stockholm, 1953.
Qujiang Museum, Xian, Collection Dong Bo Zhai, Ming Dynasty (1573-1620) – Royal Gold Wares, Wenwu, 2014.
Provenance
private collection, UK
Inventory no.: 2497
SOLD