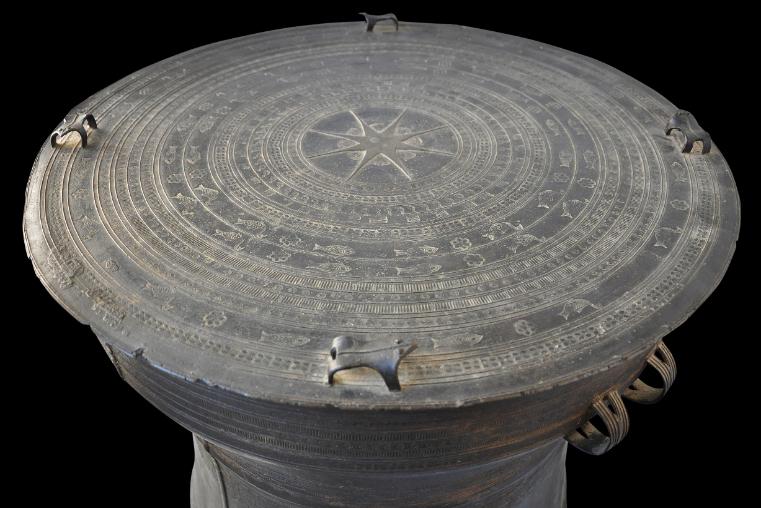 Inventory no.: 1513
Shan/Karen Burmese Bronze Drum
SOLD
Bronze Ceremonial Frog Drum (Pa-zi)
Karen People, Eastern Burma
18th-19th century or earlier
height: 46.5cm, diameter: 60cm
This cylindrical, waisted bronze drum has clear markers to origins in Eastern Burma with the Karen people, but it is part of a wider tradition of bronze drum making in Southeast Asia and South China, a tradition that goes back many centuries. They seem to have been traded from the earliest times, judging by their distribution today and sometimes were offered as tribute to overlords (Fraser-Lu, 1994, p. 140).
This example, with two pairs of handles around the sides, has a round, flattened top with effigies of four cast frogs placed at equidistant points around the tympanum which is decorated with a central star or sun burst motif around which there are numerous concentric bands filled with repeated duck, fish, aquatic flower and stylised seed motifs.
The Karen regarded such drums as their most precious possessions. The deep tone of the drums was believed to be pleasing to ancestral spirits and to the
nat spirits. Possibly, the drums were also beaten in conjunction with rice planting festivals to encourage the rains – sometimes they are referred to as rain drums. This association with rain no doubt accounts for the use of the frog, duck and fish motifs for example. It is also possible that seed rice was stored in the drums prior to sowing.
The Karen do not appear to have cast such drums themselves but commissioned them form Shan craftsmen who cast the drums using the lost-wax process. According to Fraser-Lu, the Shan artisans had to undergo various purification rites at an auspicious hour determined by an astrologer prior to commencing casting on account of the ritual importance of such drums. The drums made by the Shan also were exported to buyers in Thailand, Laos and Cambodia.
Drums similar to this example are illustrated in Fraser-Lu (1994), Lewis (1984) and Pal (2004). The Norton Simon Museum in California has a collection of fourteen such drums including several that appear to be of Shan/Karen origins.
The condition of this example is fine: there is some fritting to the edge of the tympanum although this is usual for genuine examples of such drums of considerable age, something that is pointed to by the fine and dark surface patina. Overall, this is a fine example of a Southeast Asian frog drum. It was acquired in the UK and most probably was brought to the UK from Burma during colonial times.
Provenance
UK art market.
References
Fraser-Lu, S., Burmese Crafts: Past and Present, Oxford University Press, 1994.
Lewis, P. & E.,
Peoples of the Golden Triangle: Six Tribes in Thailand, Thames & Hudson, 1984.
Pal, P.,
Art from Sri Lanka & Southeast Asia: Asian Art at the Norton Simon Museum, Yale University Press, 2004.
Inventory no.: 1513
SOLD