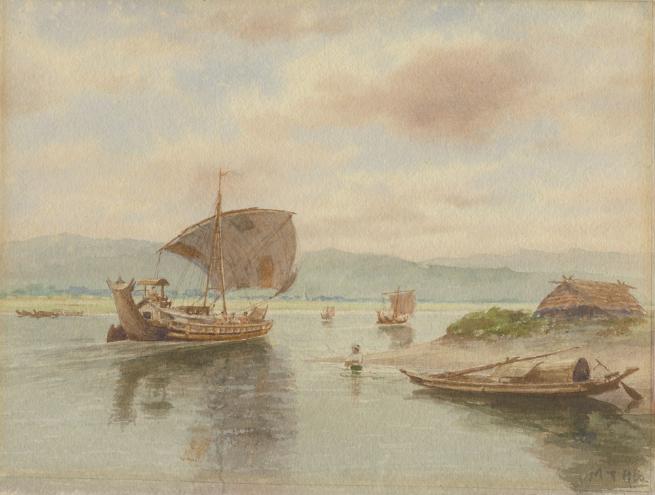 Inventory no.: 1041
U MT Hla Burmese Artist
SOLD
U M.T. Hla (Burma, 1874-1946)
Watercolour of a river scene
size: 20cm x 15cm
This finely executed watercolour shows a river scene, most probably a stretch of the Irrawaddy (Ayeyarwady) River. Several rivercraft are depicted and a Burmese man is shown waist deep near the centre of the painting. The main boat shown with its patched sails was typical of the boats that plied the river bringing goods and commodities such as teak logs from upper to lower Burma.
The painting is typical of M.T. Hla's work, with its superb composition and technical skill which is most apparent in the rendering of the clouds.
The work is signed 'M.T. Hla' in the bottom right-hand corner.
Along with Ba Ohn, U M.T. Hla (U is the Burmese approximation for Mr) is the earliest pioneer of Western-style painting in Burma. Both received personal instruction in Western painting techniques. M.T. Hla also received traditional instruction and undertook traditional painting decoration for the banners and other decorations associated with Burmese Buddhist celebrations and ceremonies.
Ranard (2009, p. 57) comments in respect of M.T. Hla, that 'more than two dozen of his paintings have surfaced, most of them watercolour…' It is likely that most of the artist's works were acquired by colonial administrators and their families and brought back to England and Scotland in the early twentieth century. It would appear that very few of the artist's works have survived in Asia. Several paintings by M.T. Hla are found in the collection of the National Museum, Myanmar, however.
Ranard observes that twelve of the artist's paintings survive in the collection of Denison University (Ohio). (Ranard reproduces five M.T. Hla paintings in his book.)
M.T. Hla is historically important in the development of modern Burmese painting. His work represents a break with traditional styles of painting and heralds the evolution of a vibrant and dynamic painting scene in Burma which lasts to this day.
References
Khin Muang Nuynt et al, Myanmar Painting: From Worship to Self-Imaging, EvoHeritage, 2006; and Ranard, A., Burmese Painting: A Linear and Lateral History, Silkworm Books, 2009.
Inventory no.: 1041
SOLD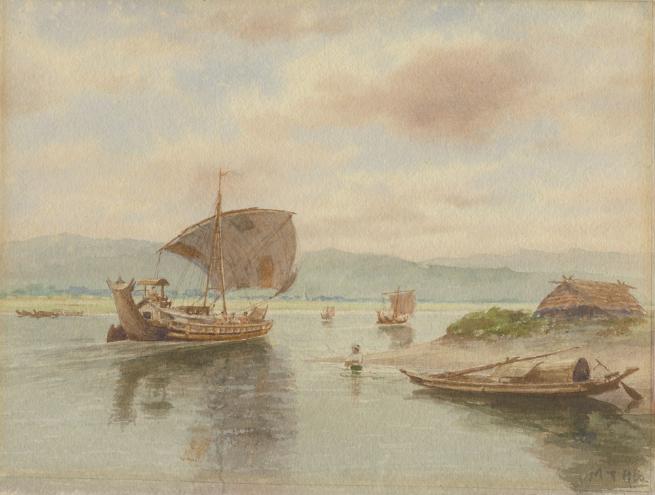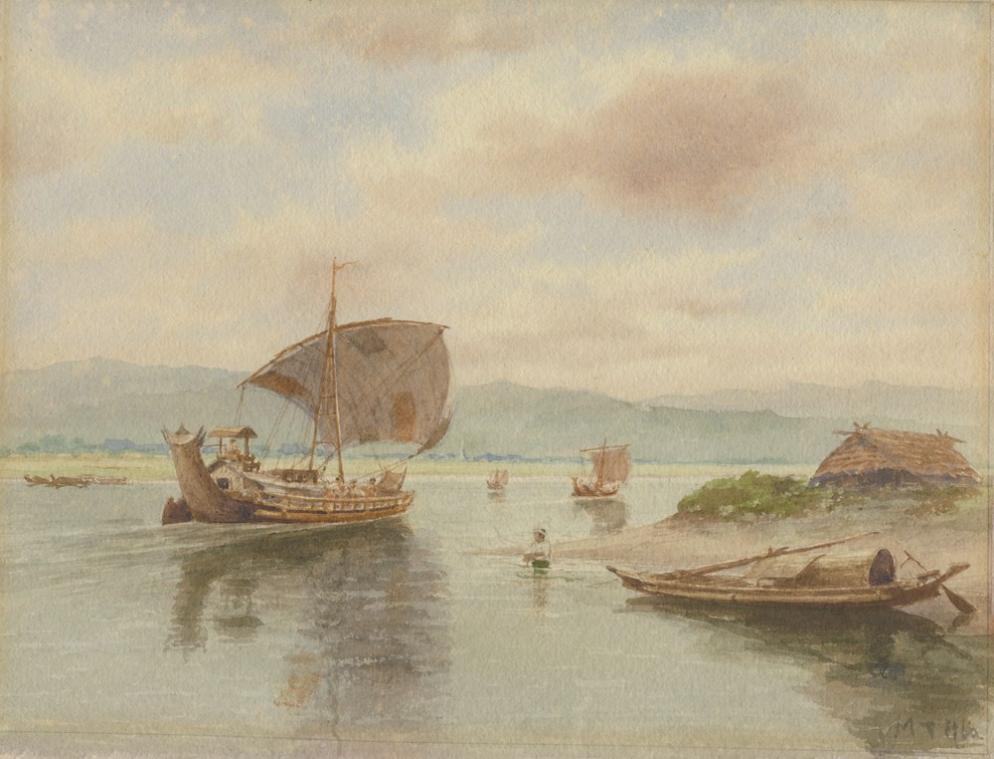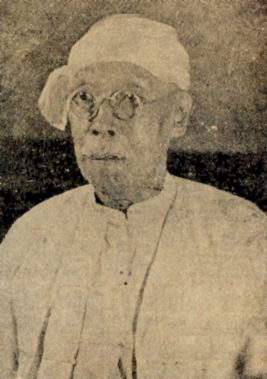 M.T. Hla, reproduced from Ranard (2009)