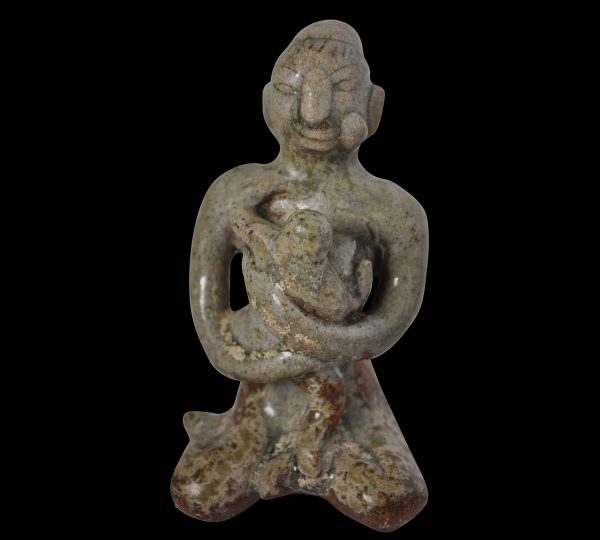 2736
Enquiry about object: 2736
Thai Betel-Chewing Stoneware Tukatha Figure
Ban Pa Yang, Si Satchanalai, Thailand 14th-16th century
height: 10.5cm
Stoneware tukatha figurines (tuton sia kaborn or tukata sia kaban – 'tukatha' is the Thai word for 'doll') such as the example here follow a typical form of a female figure seated in wither cross-legged or in the Thai position of honouring with both feet pointing behind. The figure cradles a baby in its arms. Some, such as this example, also have a prominent bulge on one cheek – a betel quid that is being chewed for its mild narcotic effect. Each has a celadon glaze.
They were produced in the 14th to 16th centuries in the kiln sites around Si Satchanalai.
The precise reason for the production of the figurines is unclear. They might have been used to absorb away demonic spirits from expectant mothers so that the demons would inhabit the dolls rather than the mothers. They might also have functioned as offerings. Often the figure are found with their heads missing or reattached which is suggestive of sacrifice. But some have pointed to the possible structural weakness of the necks positing that the heads might have de-attached accidentally.
Similar examples are to be found in the National Museum, Bangkok, and the British Museum, London.
The example here is in a fine condition and is without significant losses. The betel quid in the cheek is prominent and there is clear age-related degradation to the glaze. Overall, this is a fine example.
The final image shows a similar example in the British Museum. The bulge of the betel quid in the figure's cheek is pronounced.
References
National Museum Volunteers Bangkok, Inspirations: A Guide to our Forty Favourite Pieces, NMV Bangkok, 2009.