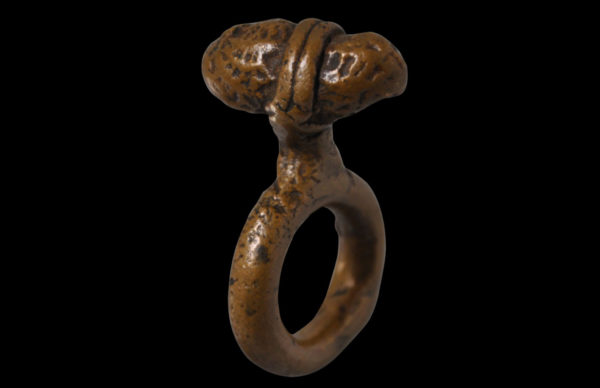 1873
Enquiry about object: 1873
Akan Cast Brass Peanut Ring or Pendant
Akan, Ghana/Ivory Coast 18th-19th century
height: 5cm, weight: 16g
Provenance
Private Collection, Germany, acquired 1960-81
The Akan people of Ghana and the Ivory Coast were pre-eminent in metal casting n West Africa. They are particularly known for the many forms of cast brass gold dust weights that they produced. Among the techniques the Akan used was to make casts from actual objects. This ring, with a bezel shaped naturalistically as a peanut, is one such example whereby a cast has been taken from an actual peanut shell and used to produce a brass model that was applied to a ring. The roundness of the hoop suggests that this item might also have been used as a pendant rather than a (finger) ring.
According to McClusky (2000, p. 79) the use of the peanut form need not be merely decorative or even be a direct reference to a relatively mundane foodstuff, but may be a reference to the Asante proverb: 'If you want to grow something for me, plant groundnuts, not corn (a wish for a long-lasting relationship as peanuts stay in the ground once planted but corn is easily uprooted and destroyed.
Philips (2010, p. 100) identifies another Akan or Asante proverb associated with the peanut: 'Marriage is like a groundnut, you must crack it open to find what it contains.'
The ring here has substantial wear and a fine chocolate colour. It is marked to the underside with an old collection inventory number.
See McClusky (2002, p. 78) for a gold Asante peanut ring.
References
de Groote, P., Metalworking in West Africa, Lannoo, 2020.
McClusky, P., Art from Africa: Long Steps Never Broke a Back, Seattle Art Museum, 2002.
Phillips, T., Africa: The Art of a Continent, Prestel, 2004.
Phillips, T., African Goldweights: Miniature Sculptures from Ghana 1400-1900, Edition Hansjorg Mayer, 2010.