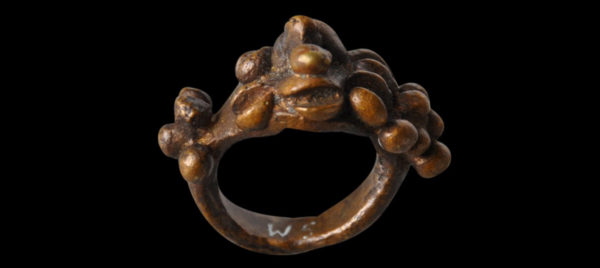 1874
Enquiry about object: 1874
Akan Cast Brass 'Seed Pod Cluster' Ring with Traces of Gilding
Akan, Ghana/Ivory Coast 18th-19th century
width: 4cm, weight: 13g
Provenance
Private Collection, Germany, acquired 1960-81
The Akan people of Ghana and the Ivory Coast were pre-eminent in metal casting n West Africa. They are particularly known for the many forms of cast brass gold dust weights that they produced. Among the techniques the Akan used was to make casts from actual objects. This ring is one such example whereby a cast has been taken from a cluster of seed pods and seeds and used to produce a brass model that was applied to a ring.
The ring here has substantial wear and a fine chocolatey colour. It is marked to the underside with an old collection inventory number.Akan, Ghana/Ivory Coast
References
Phillips, T., Africa: The Art of a Continent, Prestel, 2004.