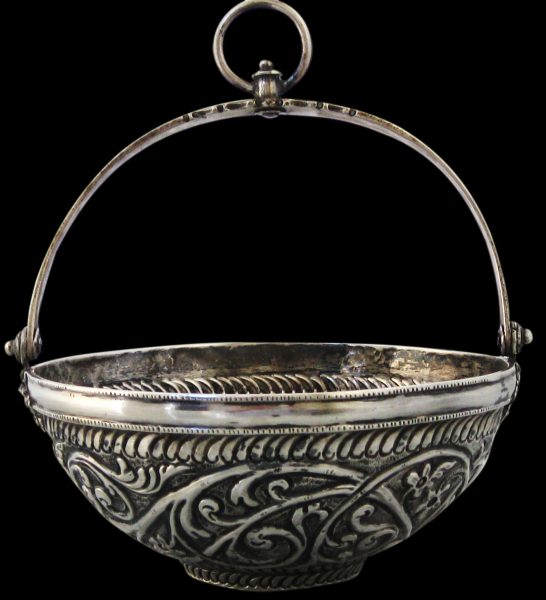 946
Enquiry about object: 946
Algerian Repoussed Silver Hammam Bowl
Algeria 19th century
height: 13.3cm, diameter: 11.5 weight: 123g
– scroll down to see further images –
This hammam bowl comprises a spherical base on a low, flat foot, repoussed a central frieze of scrolling vines and flowers between two lotus petal borders. A rounded handle with serrated design and surmounted by a loop is attached by means of two profuse flower flanges. The base is repoussed with a solar motif.
Bowls such as these were used in nineteenth century Algeria in the hammam, or public steam bath facilities found in the Maghreb and the Ottoman empire.
Algerian silver objects of vertu are uncommon on international markets. Relatively few items have been published. But see Lots 162 and 163 in Etude Tajan's 1995 catalogue for two comparable Algerian hammam bowls, and also Garnier (2003, p. 57) for an example in the collection of the Musee Conde a Chantilly.
References
Etude Tajan, 'Art Islamiqie: Tableaux Orientalistes', June 5, 1995.
Garnier, N.,et al, ABD El-Kader et l'Algerie au XIXe Siecle dans les Collections du Musee Conde a Chantilly, Somogy Editions d'Art, 2003.