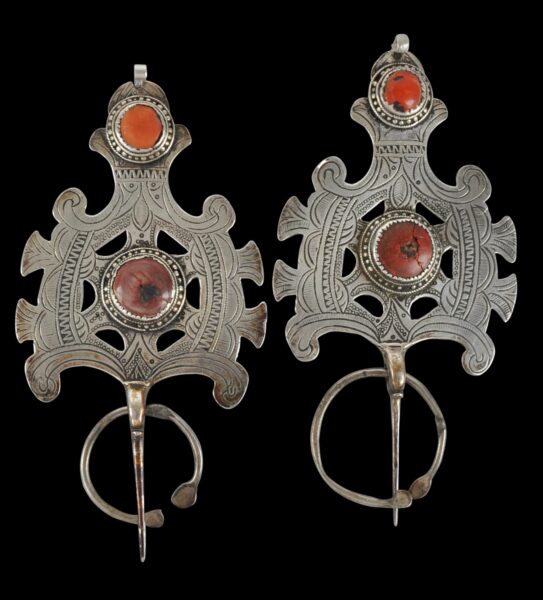 6424
Enquiry about object: 6424
Pair of Algerian Berber Silver Cloak Pins or Fibulae
Beni Yenni People, Kabylia area, northern Algeria early 20th century
length: approximately 14cm, width: approximately 7.2cm, combined weight: 106g
This matched pair of silver cloak clasps, of triangular form, are engraved and set with coral and coral-like bakelite cabochons. They are pierced and enhanced with leafy, scrolling edges.
Related examples are illustrated in Daalder (2009, p. 398-9) and Prolongeau-Wade (2008, p. 194-5).
Such pins were used by Berber women to fix woollen cloaks around their shoulders particularly during the cooler winter months.
Chains would have connected the two fibulae and these would have hung down the chest of the wearer almost necklace like.
The pair here is in fine condition with plenty of evidence of age and wear.
References
Daalder, T., Ethnic Jewellery and Adornment: Australia, Oceania, Asia, Africa, Ethnic Art Press/Macmillan, 2009.
Prolongeau-Wade, S., Voyage des au Pays Fibules, Editions du Regard, 2008.