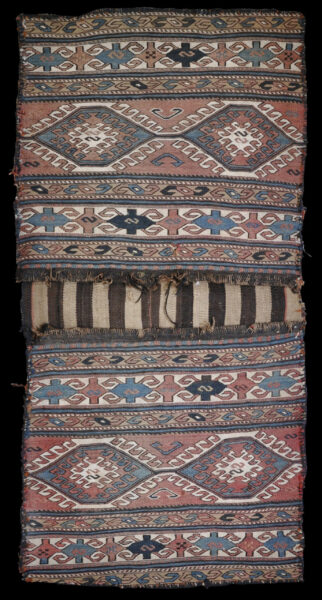 8480
Enquiry about object: 8480
Anatolian Woven Saddle Bag
Turkey, probably the Yoruk people, Taurus Mountains, Anatolia early 20th century
length: approximately 100.5cm, width: approximately 51.5cm
Provenance
private collection, London, UK
This saddle bag, woven from dyed goat wool, has two pockets on each side for storage. It is decorated with geometric designs on the front and broad alternating dark and cream stripes on the underside.
Such saddle bags were used on mules and donkeys sometimes in festive processions such as in relation to a wedding or Id celebrations.
Probably the product of the nomadic Yoruk people of the Taurus Mountains of Turkey. Traditionally, they would spend the summer months in the mountains, and during the winter months, they would come down to the coastal plains. They kept livestock such as goats, sheep, camels, and sometimes cattle.
The saddle bag retains its original bright colours. There are several small holes from wear and use, but these are apparent only on close inspection.
References
Suleman, F., Textiles of the Middle East and Central Asia: The Fabric of Life, The British Museum, 2017.