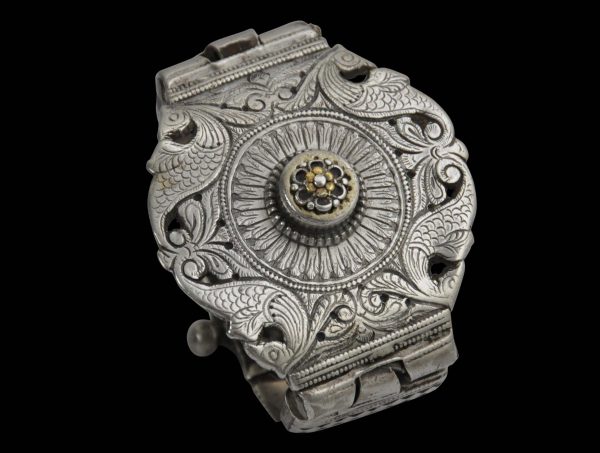 4965
Enquiry about object: 4965
Indian Pierced Silver Bracelet
Hyderabad, Andhra Pradesh, India 19th century
length or face: 5.5cm, internal diameter of band: approx. 3cm x 5cm, weight: 100g
Provenance
Collection of the late Paul Walter, New York, probably acquired in London
This delightful, hinged bracelet is from Andhra Pradesh. The central lotus motif includes a raised central boss that is parcel-gilded and possibly part enamelled with dark lac. The central lotus is surrounded by four peacocks and engraved feathery foliage. It is also pierced.
The band is hinged and opens with a long screw mechanism which turns anti-clockwise to close. The band is chased with bands of ropework to emulate a multi-link band.
A related, less refined example is illustrated in van Cutsem (2002, p. 201) and another is in Untracht ( 1997, p. 253).
The example here has a fine patina and plenty of signs of age. It is robust and stable. It would fit a lady with a small wrist.
References
van Cutsem, A., A World of Bracelets: Africa, Asia, Oceania, America, Skira, 2002.
Untracht, O., Traditional Jewelry of India, Thames & Hudson, 1997.