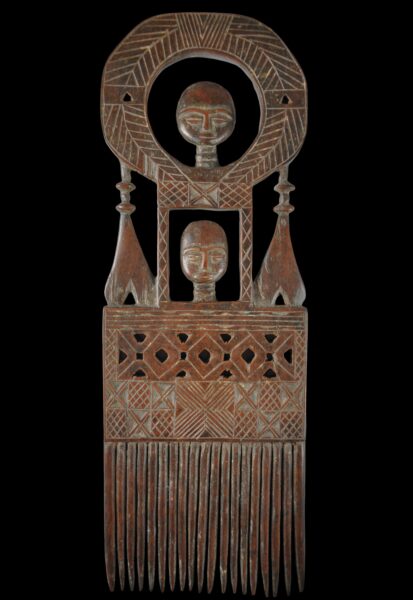 6890
Enquiry about object: 6890
Ashanti Carved Wooden Comb (Duafe)
Akan-Ashanti People, Ghana late 19th century-early 20th century
length: 34.1cm, width: 11.9cm, depth: 1.2cm, weight: 227g
Provenance
private collection, London.
This large and well carved wooden figural comb is from the Ashanti (Asante) people of Ghana. This comb, typical of many Ashanti combs, has been carved with complex meaning and symbolism which often draw on Ashanti proverbs and sayings. It is decorated as delicately on the back as on the front.
The comb has been carved with two, rounded female faces based on those of an akua'ba (fertility) doll. One is contained within a round field, and the lower one, within a rectangular field. These are decorated with geometric patterns.
Beneath these is a pierced section that is similarly geometric, and below that are the many long teeth.
Combs were ordered from carvers and given as gifts by admirers to women, or by a husband to his wife, often to mark special events. They were used both as personal ornaments (Ashanti women often had high hairstyles that could have supported such a comb), and for utilitarian purposes. But many combs were kept by families for memento reasons because they were usually given as gifts.
The comb here is of particularly fine quality and craftsmanship and would have been produced for a woman of significant status.
A similar comb in the William H. Brill Collection comprised lot 149 of Sotheby's New York 'The William H. Brill Collection of African Art' sale, November 17, 2006.
The comb here has a fine, varying patina. Its contours have been softened and rounded by age and handling. It has obvious age. All the teeth are present. There is no restoration.
References
Ashton, A., 6,000 Years of African Combs, The Fitzwilliam Museum, Cambridge, 2013.
Cole, H. M. & D. H. Ross, The Arts of Ghana, Regents of the University of California, 1977.
Falgayrettes-Leveau, C., et al, Ghana: Hier et Aujourd'hui/Yesterday and Today, Musee Dapper, 2003.
Grootaers, J. L. & I. Eisenburger, Forms of Wonderment: The History and Collections of the Afrika Museum, Berg en Dal, 2002.