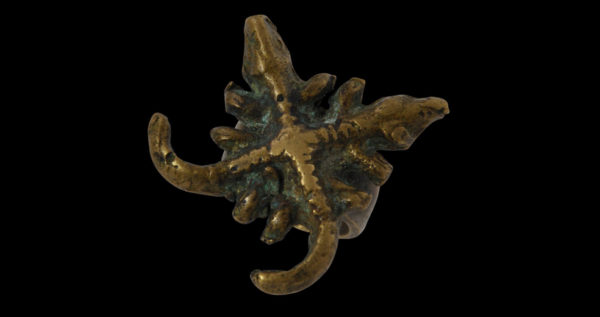 1879
Enquiry about object: 1879
Ashanti Cast Brass "Double Crocodile" Ring, Ghana
Ashanti, Ghana 18th-19th century
diameter of bezel: 4.7cm, weight: 35g
Provenance
Private Collection, Germany, acquired 1960-81
The Akan people of Ghana and the Ivory Coast were preeminent in metal casting in West Africa. This ring has been cast with a prominent bezel in the form of two overlapping crocodiles, or as Philips (2010, p. 102) prefers in relation to gold dust weights that employ a similar motif, crocodiles with shared stomachs.
Philips cites an Akan proverb: Crocodiles' stomachs mixed up, they both have one stomach but when they eat they will fight because of the sweetness of the swallowing' – which translates to one of the dilemmas of family life in that if one family member gains something then the family as a whole is better off but the pleasure of consumption generally is an individual thing which may lead to problems.
Bargna (2000, p. 126) demonstrates how the cross crocodile motif might have been the genesis for the geometric cross shapes seen on Asanti adinkra fabrics.
The ring here has substantial wear and a fine chocolate colour. It is marked to the inside of the hoop with two old collection inventory numbers.
References
Bargna, I., African Art, Editoriale Jaca Book, 2000.
Phillips, T., African Goldweights: Miniature Sculptures from Ghana 1400-1900, Edition Hansjorg Mayer, 2010.