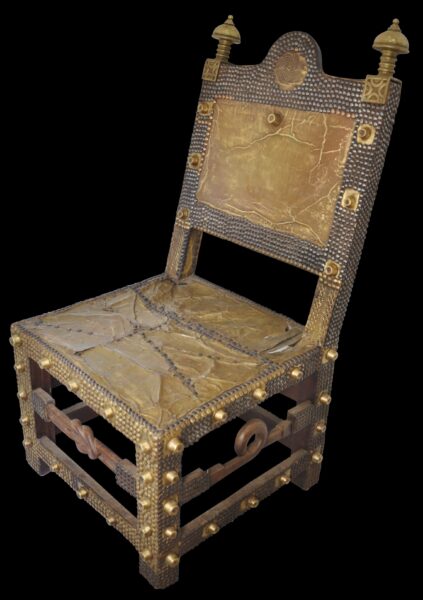 8905
Enquiry about object: 8905
Ashanti Chief's Brass-Covered Asipim Chair
Ashanti (Asante) People, Ghana 19th century
width: 50.2cm, height: 93.4cm, depth (seat only, excluding the inclining back-rest): 47cm
This is an outstanding example of an asipim chair, which would have been used by an Ashanti chief. Such chairs tend to be low and without arms to allow the chief to sit with his legs wide apart to help him look 'big' – a pre-requisite for rulers in many African cultures was that they need to be physically imposing.
Ashanti chiefs used such chairs during meetings. Their subjects would sit before them, but on the ground. Chiefs would demonstrate their social status by the number of such chairs they would own.
This example is almost entirely covered in hammered sheet brass, which has developed a wonderful patina from age and use. The sheet brass is held in place by hundreds of brass studs. Additionally, the wooden stretchers have been carved with a figure of 8 knot at the front, and loops on the sides. These extra details mark this chair out as superior to most extant examples.
The top rail has a prominent turned brass finial at each end.
The back-rest inclines back in the usual asipim style. The brass studs (and some copper ones too)  are arranged in patterns in various places to add further decorative elements to the chair.
Asipim chairs typically were seen in Ashanti royal courts leaning against walls when not in use. They are patterned after 17th or 18th century English chairs known as Farthingale chairs.
See Cole & Ross (1977, p. 141) for a a related example.
The chair here is in fine condition. There is a break in the brass sheet that covers the seat though this is in keeping with the age of the chair and that it has been well used. All the joints are firm and the chair is very stable.  Again, the chair has a superb colour and patina. This is a very fine, museum-quality example.
References
Bocola, S. (ed.), Sieges Africains, Reunion des Musees Nationaux, 1994.
Blier, S. P., Art of the Senses: African Masterpieces from the Teel Collection, MFA Publications, 2004.
Cole, H. M. & D. H. Ross, The Arts of Ghana, Regents of the University of California, 1977.