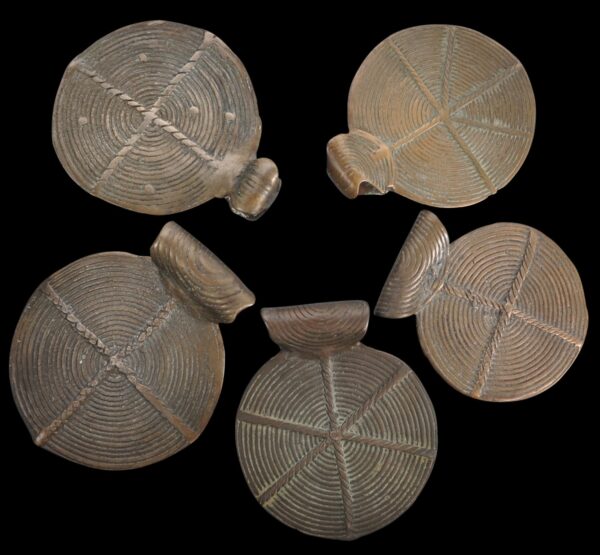 7195
Enquiry about object: 7195
Assam Brass Waist Ornaments (Benyop)
Adi-Minyong people, Assam & Arunchal Pradesh, India 18th-19th century
length (of the largest piece): 11cm, width: 9.1cm, combined weight: 598g
This set of five waist ornaments of graduated size and known as benyop or bayop was worn by a woman until the birth of her first child. The remarkable wear on them, particularly about the hoops through which fibre cord would have been threaded to hold the set around the waist suggests that such ornaments were passed down through the generations. Accordingly, it is likely that this set is particularly old.
Cast using the lost wax process, each is decorated with a spiral design with ridges that run across each face. They were worn in sets of three, five, seven or nine.
Similar examples are illustrated in Leurquin (2004, p. 155) and Untracht (1997, p. 140). Examples are relatively rare. Sets survive in the National Museum of Scotland, Victoria & Albert Museum and the Pitt Rivers Museum in Oxford, UK. The latter were collected in Assam in 1929.
The examples here have splendid wear and patina and very obvious age.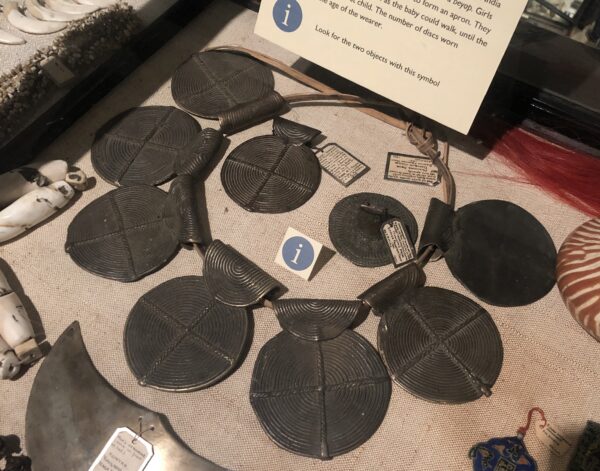 Related examples at the Pitt Rivers Museum, Oxford.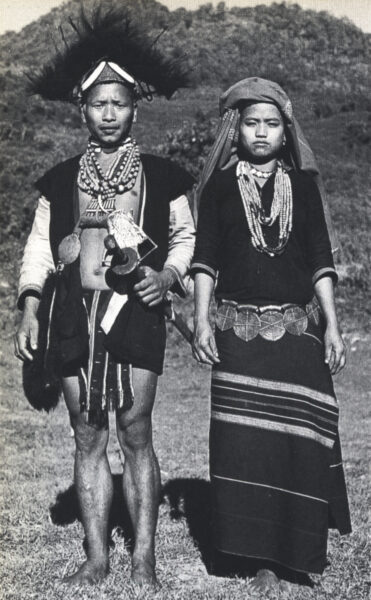 An Adi-Minyong couple, Arunchal Pradesh, circa 1940. The woman wears a benyop girdle.
Scroll down for more images.
References
Leurquin, A., A World of Belts: Africa, Asia, Oceania, America from the Ghysels Collection, Skira, 2004.
Untracht, O., Traditional Jewelry of India, Thames & Hudson, 1997.