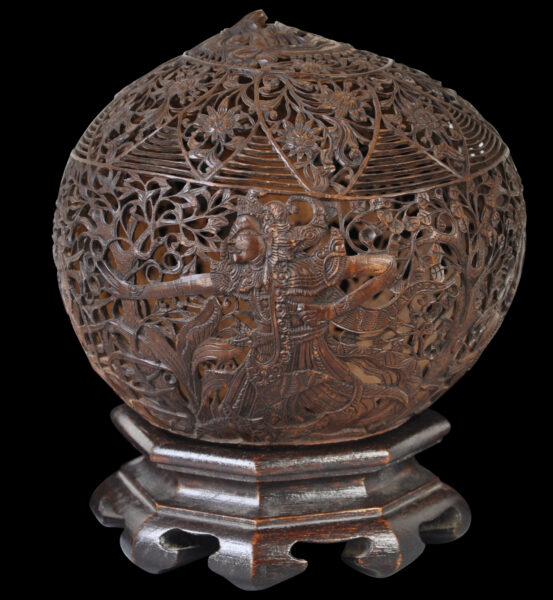 8988
Enquiry about object: 8988
Balinese Finely-Carved Coconut & Stand
Bali, Indonesia circa 1920-30
width of coconut: approximately 13.5cm, height of coconut: approximately 13cm. weight of coconut: 95g
Provenance
Dutch art market
This carved coconut is exquisite. It is exceptionally well carved with scenes from Balinese lore. The shell of the coconut is much pierced but in no way is the item fragile; nor has it suffered any loss. Coconut shells are well known for their strength and rigidity and so it is with the example here.
The top of the shell is carved with a protective 'monster' mask karang bhoma motif. From this radiates a sunflower motif and each of the petals in infilled with very fine sprays of flower motifs. Beneath is a continuous scene of four main characters amid tropical, luxuriant foliage. There is a character that could be Arjuna, beautifully rendered in court dress; another that could be Bima with an ogre-like face, body hair and other course features; a crowned naga; and a fanged tiger.
The shell sits on a small octagonal wooden stand that probably has always been with it.
Items such as these probably were made in the 1920s and 1930s when Bali began to receive famous European and American visitors such as Charlie Chaplin he visited in 1932.
The coconut is in excellent condition. It is the best example of one of these that we have seen.
References
Hooykaas, C., Drawings of Balinese Sorcery, E.J. Brill, Leiden, 1980.
Ramseyer, U., The Art and Culture of Bali, Oxford University Press, 1977.
Reichle, N. (ed.), Bali: Art, Ritual & Performance, Asian Art Museum, 2010.