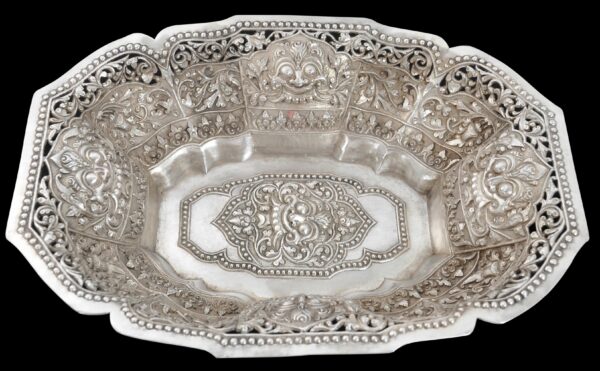 8685
Enquiry about object: 8685
Balinese Pierced Silver Offering Dish
Bali, Indonesia circa 1910
length: 32cm, width: 23.2cm, height: 6.8cm, weight: 540g
This good-sized silver-alloy bowl or dish is from Bali and is based on the dishes that Balinese use to transport flower and other offerings to temples and altars.
It is repoussed and pierced all the way around with four protective karang tapel masks and panels of patera sari flower motifs.
The interior base is similarly decorated with a large karang tapel mask.
As mentioned, such bowls were used to present floral and fruit offerings at a temple and at the altar of a family compound. They might have been piled high with offerings and then lighted incense sticks would be inserted as well. (Nowadays, a plastic or aluminium metal bowl will serve the purpose.)
The dish is in fine condition and is free of repairs and dents. As with most similar items of Balinese silver, the silver content of this item is more likely to be around 80% purity rather than (say) 95%.
References
Meulenbeld, B.C., et al, Budaya Indonesia: Arts and Crafts in Indonesia, Tropenmuseum, 1988.
Ramseyer, U., The Art and Culture of Bali, Oxford University Press, 1977.