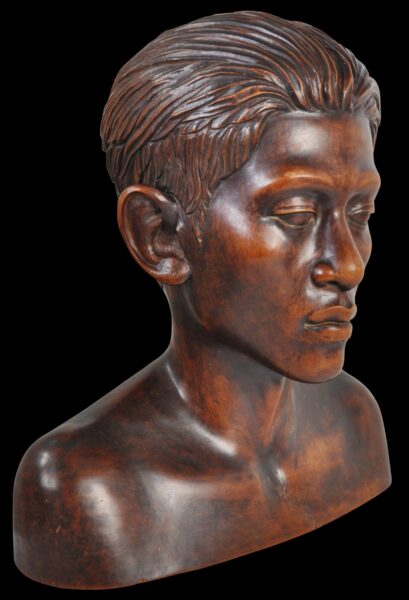 8886
Enquiry about object: 8886
Carved Wooden Portrait of a Young Balinese Man
Bali, Indonesia circa 1930
height: approximately 25cm, width: 23cm, depth: approximately 16cm, weight: 2,547g
Provenance
private collection, UK.
This exceptional carving by a Balinese artist around 1930 is the best example of its type that we have seen. Carved from a single piece of wood, possibly sandalwood, it shows a Balinese youth with a European-inspired haircut of the era. The youth portrayed has delicate, fine features including a high forehead and fleshy lips. The skill of the woodcarver is exemplary. It is likely that this bust is not a generic figure but an actual portrait of a particular individual. The fact that the individual has a European-style haircut fashionable at that time suggests that the individual portrayed was familiar with Europeans and possibly was a member of the nobility.
A similar, but lesser, carved wooden bust from the de Roever Collection and published in Vickers (2016, p. 160).
Bali has long been a destination for visitors. The numbers of visitors increased significantly in the 1920s and 1930s. The actor Charlie Chaplin visited in 1932 for example, as did many other celebrities around that time. Their presence along with that of expatriate artists who encouraged Balinese artists to develop items for 'Western' tastes helped to foster an early art industry in painting and sculpture aimed at the foreign market.
The portrait bust here is in excellent condition. It has a wonderful patina. It is unsigned. Again, it is one of the best examples of its type that we have seen.
References
Leidelmeijer, F., Art Deco Beelden van Bali (1930-1970): van Souvenir tot Kunstobject, UItgeverij Waanders, 2006.
Neka, S., & G. Kam, Neka Art Museum: The Heart of Art in Bali, Yayasan Dharma Seni, 2008.
Ramseyer, U., The Art and Culture of Bali, Oxford University Press, 1977.
Reichle, N. (ed.), Bali: Art, Ritual & Performance, Asian Art Museum, 2010.
Vickers, A., Balinese Painting and Sculpture from the Krzysztof Musial Collection, Polish Modern Art Foundation, 2016.