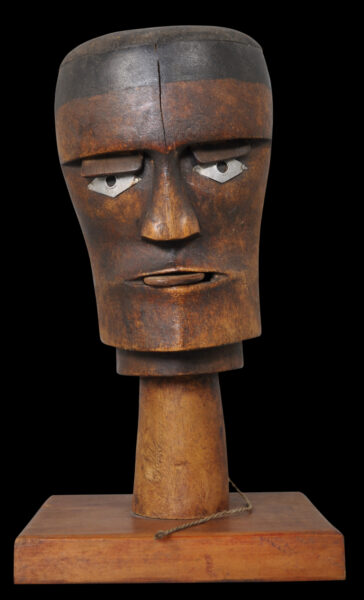 7058
Enquiry about object: 7058
Batak Funerary Wooden Puppet (Si Gale-gale) Head
Batak People, Lake Toba Region, North Sumatra, Indonesia circa 1930s
height (including stand): 27.5cm, width (of head): 11cm, weight: 748g
This carved wooden three-dimensional head coloured with brown and black ochres is from a Batak puppet or si gale-gale. It has been carved with a high forehead, a sharp chin and moveable eyelids which move up and down and a tongue which moves in an out, all of which are operated by pulling a string that protrudes from the back of the head.
The eyes are delineated with cut-out sheet aluminium. (Sheet brass and later sheet aluminium often was used to augment funerary puppets and masks.)
The head is mounted on a block of wood which is contemporary with the piece.
Si gale-gale played an important role in certain funerary rites among the Batak people of the Lake Toba region. The puppets were full sized or near to full sized and full bodied, with moveable joints which were moved by an operator pulling strings.
Ceremonies in which they were used were lengthy, expensive and could only be afforded by the wealthy. It is believed that the practice of using such puppets originated with the funerary rites for deceased persons who were childless, or whose male children had pre-deceased them. The puppets acted as a kind-of stand in, in the rites, for the children that the deceased otherwise did not have. The use of si gale-gale had largely declined by the 1930s.  (Sibeth & Carpenter, 2007, p. 34).
The head here has a fine patina and obvious age. There is an age-related shallow and stable crack down the forehead. The pull-string at the back of the head operates the tong and the eyelids and this still functions.
References
Meulenbeld, B.C., et al, Budaya Indonesia: Arts and Crafts in Indonesia, Tropenmuseum, 1988.
Sibeth, A., The Batak: Peoples of Island Sumatra, Thames & Hudson, 1991.
Sibeth, A., & B. Carpenter, Batak Sculpture, Editions Didier Millet, 2007.