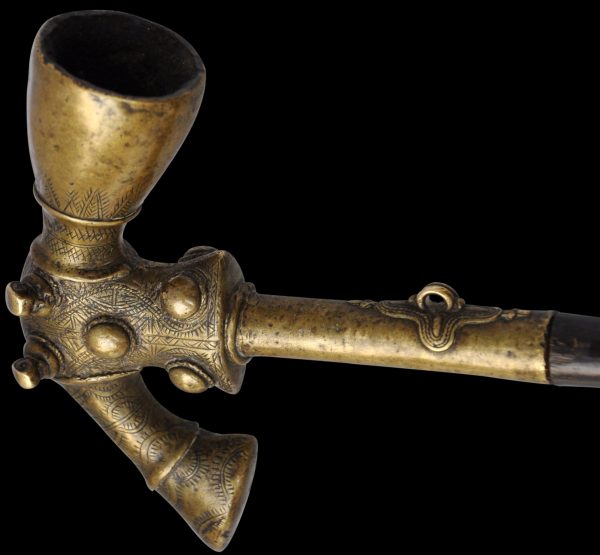 1111
Enquiry about object: 1111
Batak Raja's Brass Tobacco Pipe (Tulpang)
Toba Batak, North Sumatra, Indonesia 19th century
length: 76cm
Provenance
Christie's, The Trevor Barton Collection.
This fine, large pipe is a superb example of Batak brass work. It is in two parts with the tube of the pipe coming apart at a wooden section. The head of the pipe is large and in the form of a hammer head. It is cast with various nodular protuberances to either side (one is deficient) and is finely etched with complex geometric designs.
The front of the bowl is cast with a prominent 'trunk' – most probably a Batak gadjah ('elephant') motif.
The stem is beautifully cast with typically Batak vegetal motifs and has a mid-section prominent ring of cast semi-spheres.
The pipe has excellent and obvious patina – its contours have been softened by age and handling. Such pipes are so long as to border on the impractical but they were status symbols and part of the insignia of local Batak chieftans (rajas) and datu priests. The Dutch administrators recognised the system of local raja control and incorporated it into their own administrative structures. Each Batak raja was given a white jacket as a sign of their office and a hat with a silver band.
Sibeth (1991, p. 169) calls such pipes 'among the most impressive works of the Toba Batak yellow metal casters.' The pipes were carried by their owners over the shoulder on heavy cast brass chains. They were smoked by sitting down and placing the bowl of the pipe on the ground in front of the smoker.
Sibeth (1991, p. 178) shows a small selection of Batak cast brass pipes, most of which are in the Linden Museum in Stuttgart. Each is perhaps a smaller and a less extravagant example than this one. Two others are illustrated in Sibeth (2000, p. 66). A pipe similar to this example is in the Musée du Quai Branly in Paris and illustrated in ter Keurs et al (2008, p. 23).
The Batak are an ethnic group whose ancestral land is in northern Sumatra. Today they number around four million and are one of the larger ethnic minorities in Indonesia. This pipe almost certainly comes from the Batak people who live around Lake Toba in north Sumatra. The lake is the largest freshwater lake in Indonesia and is the centre or Batak culture.
References
ter Keurs, P. et al, Au Nord de Sumatra: Les Batak, Musee du Quai Branly, 5 Continents, 2008.
Sibeth, A., The Batak: Peoples of the Island of Sumatra, Thames & Hudson, 1991.
Sibeth, A., Batak: Kunst aus Sumatra, Museum fur Volkerkunde, 2000.
Tan, H., Sumatra: Isle of Gold, Asian Civilisations Museum, Singapore, 2010.