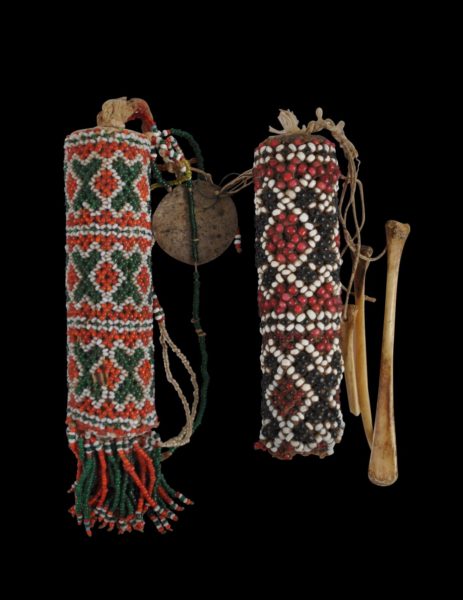 5885
Enquiry about object: 5885
Two Timorese Beaded Lime Containers
Atoni or Dawan people of West Timor, Indonesia early 20th century
lengths (without tassels): 10.5cm
Provenance
formerly in the collection of Henry Brownrigg, author of a book on the betel cutters in the Samuel Eilenberg Collection
These two very decorative containers are made of bamboo or hollow wooden tubes that have been covered with multi-coloured glass trade beads.
Such containers were used by the people of Timor island in Eastern Indonesia to hold powdered lime which was added to the betel quid, betel being a mild, social narcotic that was chewed. (The lime was obtained by burning seashells and coral and then grinding it to a powder.)
One is decorated with multiple beaded tassels at the lower end. Both have wooden stoppers that fit snugly into the mounts of the containers. One has a beaded string handle decorated with a white metal disc. The other has three bone spatulas attached.
A related example is illustrated in Maxwell (2010, p. 145).
The containers has fine patinas and obvious age. It contains remnants of lime.
References
Maxwell, R., Life, Death & Magic: 2000 Years of Southeast Asian Ancestral Art, National Gallery of Australia, 2010.