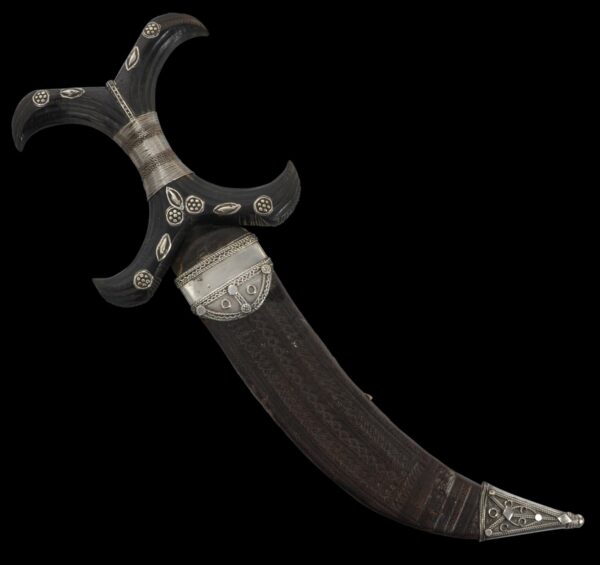 8415
Enquiry about object: 8415
Fine Horn of Africa Bedja Dagger with Silver Embellishments
Hadendoa People, Bedja region, Eritrea 19th century
length: approximately 33cm, width: 11.3cm, weight: 245g
Daggers such as this particularly fine example were used in the Bedja region of Eritrea by the Hadendoa people who have their origins in Nubia and Egypt.
This example has a curved steel blade, and a curved 'X' hilt of finely carved, grained wood. The mid section has been wrapped in silver wire and the front of the hilt has been further decorated with embossed silver plaques in the form of stylised seeds and other motifs.
The scabbard is encased in leather and the chape is of silver.
Several examples of similar form but with lesser or no silver embellishments are illustrated in Tirri (2003, p. 77).
The dagger is in good condition. The blade fits tightly into the scabbard. There is an old split to one section of one side of the scabbard, due to shrinkage, but this is not all that apparent. The blade has old corrosion marks as is typical. This is the best example of its type that we have seen.
References
Tirri, A.C., Islamic Weapons: Maghrib to Moghul, Indigo Publishing, 2003.