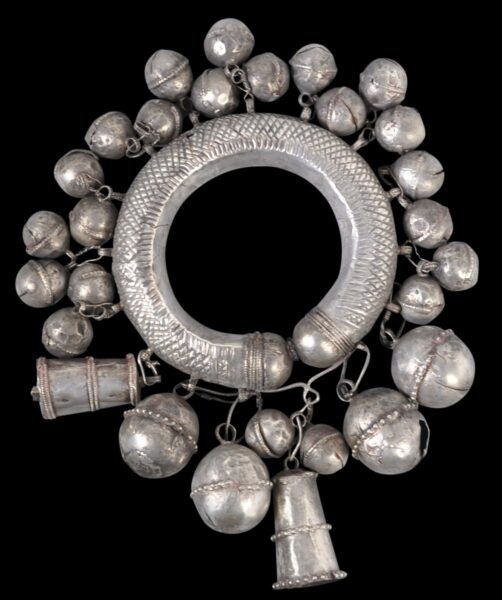 9268
Enquiry about object: 9268
Bedouin Silver Rattle Anklet with Bells (Halhal)
Bedouin people, Abha, 'Asir Region, Southern Saudi Arabia 19th-early 20th century
inner diameter: approximately 7.1cm, weight: 232g
Provenance
private collection, UK. Collected in the 1970s from Saudi Arabia.
This rare hollow silver anklet is decorated with impressed cross-hatching. An assortment of 28 spherical bells and conical bells have been suspended all the way round by silver wires attached to silver loops attached to the anklet.
Perhaps apocryphal, but it is said that such anklets were worn by women so that should they attempt to leave their husband's tent at night and visit the tent of another then the woman's husband would be alerted. More likely, such anklets were worn at joyous occasions such as weddings and would have made a great deal of noise as the women danced.
Related examples are illustrated in Ransom (2014, p. 207), and Seiwert (2009, p. 123).
The anklet here is from a now elderly expatriate collector who was based in Saudi Arabia and who collected it in the 1970s from Abha, the local capital of the 'Asir Region in Southern Saudi Arabia, near the Yemen border.
The anklet has plenty of age, wear and patina. Several bells and the anklet itself have age-related holes.
References
Colyer Ross, H., Bedouin Jewellery in Saudi Arabia, Stacey International, 1978.
Hosli, P., Shine & Mystery: The Splendour and Power of Oriental Jewellery, Knauf-Museum – Iphofen, 2023.
Ransom, M., Silver Treasures from the Land of Sheba: Regional Yemeni Jewelry, AUC Press, 2014.
Seiwert, W.D., Jewellery from the Orient: Treasures from the Bir Collection, Arnoldsche Art Publishers, 2009.