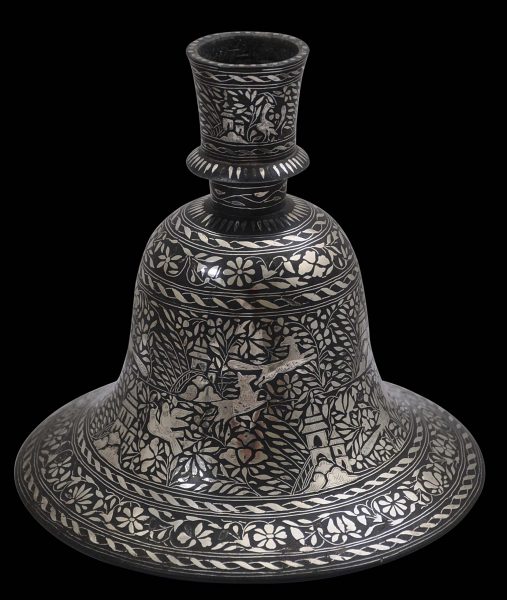 4485
Enquiry about object: 4485
Bell-Shaped Silver-Inlaid Bidri Hookah Base
Lucknow, India circa 1850
height: 17cm, diameter: 18.8cm, weight: 2,163g
This hookah base has a bell shape with a wide-flat base. It is decorated with silver inlay Bidri work. The style is based on 18th century patterns from Bidar in the Deccan but this example is from mid-19th century Lucknow in northern India and is known as tehnishan work. Shown are animal hunt scenes among shrubbery and in landscapes marked with other animals including peacocks and elephants interspersed by multiple palaces.
A related example, possibly by the same maker, is illustrated in Mittal (2001, p. 143).
Bidriware originated in the city of Bidar in the Deccan. It is cast from an alloy of mostly zinc with copper, tin and lead. The vessels so decorated are overlaid or inlaid with silver, but also sometimes brass and gold. A paste that contains sal ammoniac is then applied which turns the alloy dark black but leaving the silver, brass or gold unaffected.
Bidriware caused great interest at the Great Exhibition in London in 1851. It found new European markets and helped to keep alive the craft as demand fell in India with the decline of many of the smaller courts and landed families.
The example here is in excellent condition with little loss to the silver inlay.
References
Lal, K., Bidri Ware: National Museum Collection, National Museum New Delhi, 1990.
Mittal, J., Bidri Ware and Damascene Work: in Jagdish & Kamla Mittal Museum of Indian Art, Jagdish & Kamla Mittal Museum or Art, 2011.
Stronge, S., Bidri Ware: Inlaid Metalwork from India, Victoria & Albert Museum, 1985.