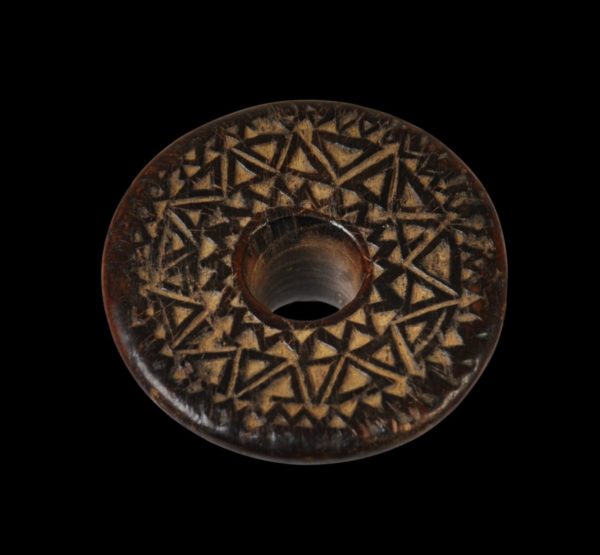 6188
Enquiry about object: 6188
Superb, Berber Carved Wooden Spindle Whorl
Berber People, Anti-Atlas, Morocco 19th century
diameter: 6.4cm, height: 2.1cm
Provenance
private collection, London, UK
– scroll down to see further images –
This spindle whorl is of carved wood. It is notable for its exceptional patina, obvious age, and the fine carving to its top. The top is carved in relief with a complex star motif.
It is from the Berber people of the Anti-Atlas mountains in Morocco.
Spindle whorls always have a disc or spherical form and were fitted onto the spindle to increase and maintain the speed of the spin.  And a spindle is a straight spike usually of wood that was used for spinning and twisting wool fibres into yarn.
This was essential for the Berbers. They had large flocks of goats and used their wool to spin yarn that was then used to make blankets, tent coverings, clothing and so on.
The example here is a wonderful example of a bygone era. It is highly decorative, with a wonderful feel in the hand. It could be used simply as a decorative item, or even as a pendant.
References
Splendeurs du Maroc, Musee Royal de l'Afrique Central, Belgium, 1998.