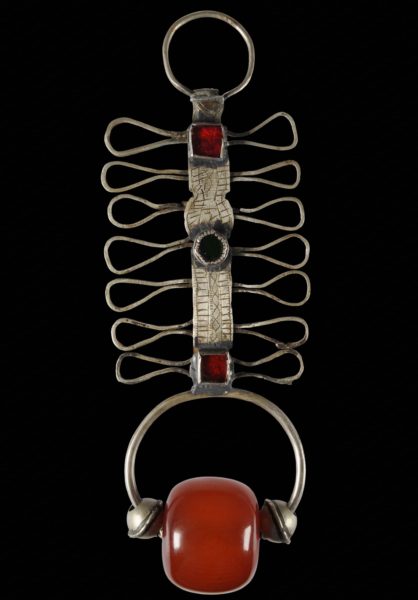 6465
Enquiry about object: 6465
Berber Haratin Long Silver Temporal or Head Ornament (Aiacha)
Berber Haratin People, Zguid Oasis, Morocco early 20th century
length: 21cm, width: 7.5cm, weight: 153g
Provenance
European art market
This rare and bold ornament was worn by Berber Harritine women – women of sub-Saharan slave ancestry.
Known as an aiacha, it is of long, twisted, thick silver wire with a central, engraved silver plate to which green glass and two glass plaques backed with red foil, all in silver box settings have been applied.
The lower end is decorated by a large amber-coloured bead between two smaller silver beads.
Such ornaments were worn by a Berber Haratin woman from a headdress down one side of the face. Some sources (see for example Rabate, 2015, p. 155) also indicate that they occasionally were worn in the hair, suspended from the back of the head.
Berber Haratin women lived in hot, difficult, desert terrain. Long hair was an indication of good health and fertility and these ornaments were worn in the hair to emphasise its length. The form of the pendant is based on the fertility goddess motif.
These were worn singularly; never in pairs, and are the only asymmetric temperal ornaments that were worn in Morocco.
See Amel (1998, p. 241) and Borel (1984, p. 96) for related examples.
The ornament has plenty of signs of age and use but is stable and can be readily worn as a pendant.
References
Amel, P., et al,  Splendeurs du Maroc, Musee Royal de l'Afrique Central, Belgium, 1998.
Borel, F., The Splendour of Ethnic Jewelry: From the Colette and Jean-Pierre Ghysels Collection, Thames & Hudson, 1994.
Rabate, M., Bijoux du Maroc: Du Haut Atlas a la Vallee du Draa, ACR Edition, 2015.