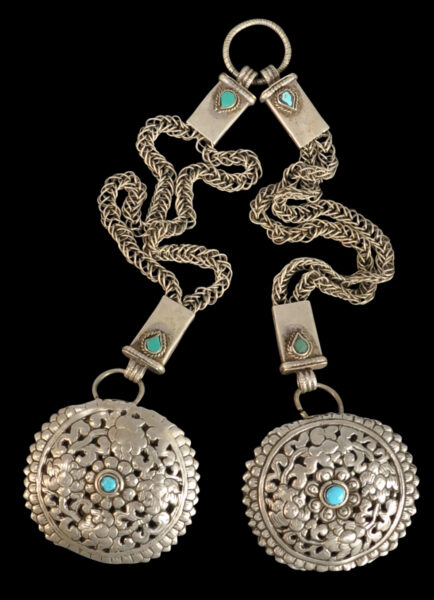 6918
Enquiry about object: 6918
Bhutanese Silver Cloak Pin (Koma) Set
Bhutan circa 1900
diameter of the cloak fasteners (widest): 6cm, overall length: 56cm, weight: 88g
Provenance
private European collection
This pair of women's dress or cloak fasteners (koma) and associated silver linking chains is of openwork silver attached to a thick sheet silver backing plate, inset with turquoise cabochon stones. The fasteners are of foliate form. They would have attached to the front of the dress (kira) – one on either shoulder or upper chest – and then been linked by the double-strand silver chain that would have run around the back of the neck. This is fitted with three rectangular silver boxes each of which is inset with a turquoise-coloured stone.
This pair of koma has hooks for the chain on the backs of each. The eyelets themselves have plenty of wear associated with year's of usage.
Most extant examples of such fasteners are relatively new, perhaps dating to the last forty years (indeed this type of accoutrement for a Bhutanese woman's dress only appeared in the early twentieth century) but this pair has very obvious wear and age from decades of actual use. The contours of the silver have been softened and the pair have a superb patina, front and back.
Related examples are illustrated in Geoffrey-Schneiter (2012, p. 82), Leurquin (2003, p, 277).
The wear seen on this pair and the chain is important. As mentioned, most examples available today are relatively new. Clearly, this is not the case here.
References
Geoffrey-Schneiter, B., Bijoux des Toits du Monde de la Chine au Caucase, Foundation Baur, Musee des Artes D'Extreme-Orient/5 Continents, 2012.
Giehmann, M., Himalayan Treasures: Adornments from Tibet, Nepal, Bhutan, Ladakh & Arunachal Pradesh: The Manfred Giehmann Collection, 2019.
Leurquin, A., A World of Necklaces: Africa, Asia, Oceania, America from the Ghysels Collection, Skira, 2003.