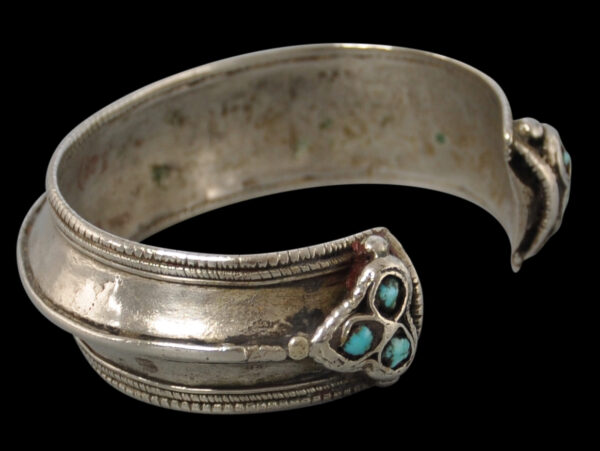 6922
Enquiry about object: 6922
Bhutanese Silver & Turquoise Bracelet
Bhutan early 20th century
external diameter (widest): 7.6cm, internal diameter: 6.5cm, weight: 61g
Provenance
private European collection
This 'C' form bracelet is of fine silver. It has a pleasing, raised rib that runs the length of the outside. The edges are finished with pearled silver wire.
Each of the terminals of the bracelet is decorated with three turquoise cabochons set in pitch in box settings.
Similar 'C' form silver bracelets were worn in Tibet but this example is from Bhutan.
The bracelet has a fine patina and obvious age. A related example is illustrated in Giehmann (2019, p. 175).
References
Borel, F., The Splendour of Ethnic Jewelry: From the Colette and Jean-Pierre Ghysels Collection, Thames & Hudson, 1994.
Daalder, T., Ethnic Jewellery and Adornment: Australia, Oceania, Asia, Africa, Ethnic Art Press/Macmillan, 2009.
Giehmann, M., Himalayan Treasures: Adornments from Tibet, Nepal, Bhutan, Ladakh & Arunachal Pradesh: The Manfred Giehmann Collection, 2019.