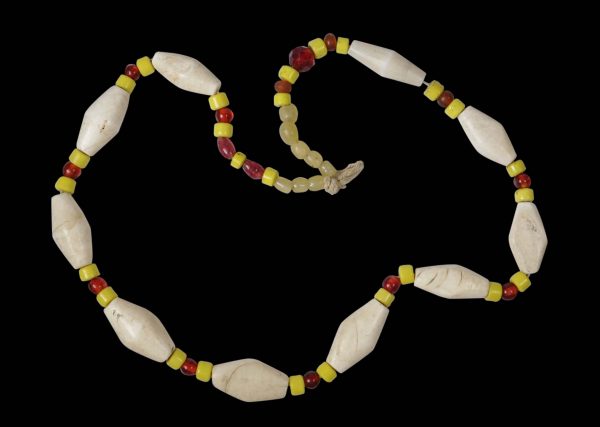 4864
Enquiry about object: 4864
Bontoc Clam Shell Bead & Glass Bead Necklace
Bontoc People, Northern Luzon, Philippines 19th-20th century
weight: 169g
Provenance
private collection, UK.
This decorative necklace comprises ten large biconical beads shaped from the giant clam shell (tridacna gigas) interspersed with round lemon-yellow and red transparent glass beads, and opaque tubular yellow beads which are most probably European trade beads that date to between 1750 and 1850. There is also one faceted red glass bead which is probably Bohemian and dates to the mid-20th century.
Such a mixture of beads is typical among the Bontoc of northern Luzon. Strands of beads were used to decorate the neck, arms and head. They were worn on an everyday basis as a display of wealth and prestige, but the daily wear necessitated frequent re-stringing at which time newly acquired beads would sometimes be added.
The shell for the clam shell beads was obtained from coastal areas but also from mountainous fossil deposits.
A related string of beads is illustrated in Afable (2013, p. 210).
The beads here are strung on cotton twine. Each of the beads has clear age, wear and a fine patina.
References
Afable, P., et al, Philippines: an Archipelago of Exchange, ACTES SUD/ Musee du Quai Branly, 2013.