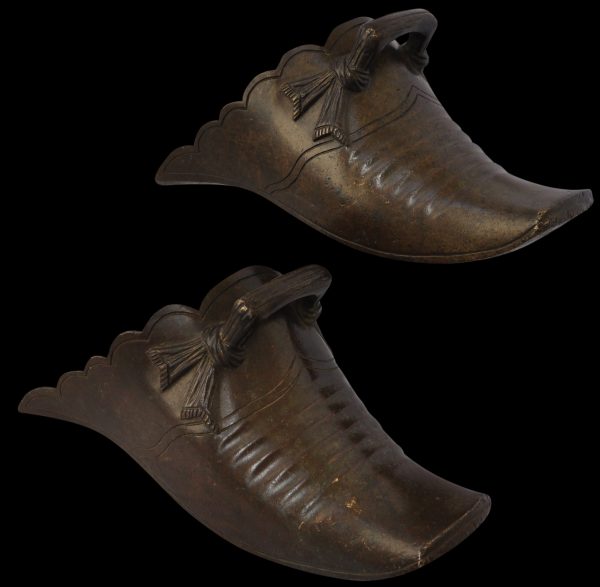 1085
Enquiry about object: 1085
Brass Colonial Spanish or Dutch Stirrups
Spanish South America or Dutch Suriname 17th-19th century
both each approximately 27cm in length & 12.5cm in height; weights: 1348g and 1324g
Provenance
European art market.
This pair of heavy brass stirrups has a superb, rich chocolate patina. Each stirrup has been elegantly cast in the form of an eighteenth century European man's shoe, with cast brass ribbons to either side of a loop through which a leather strap would have permitted the stirrup to be suspended from the saddle.
Castilho (2010, p. 46) mentions that such stirrups possibly were made in Tibirita in the Central Andes which was well known for the production of metal items. Certainly, such stirrups typically are ascribed to Spanish colonial South America. Taullard (2004) shows several engraved silver stirrups broadly of this type that are attributed to eighteenth century Brazil and also to Peru. Ribera & Schenone (1981) illustrate several silver examples, attributed to nineteenth century Peru and Argentina.
However, the form of the stirrups here differs slightly from most others, particularly in the degree to which the toes finish in a square, blunt end and with ribbons cast to either side. This form is not unlike the shoes worn by merchants in seventeenth century Amsterdam. Often these shoes are portrayed on wearers in paintings by the seventeenth century Dutch painter Gerard ter Borch (1617-1881) – see for example his 'An officer dictating a letter', about 1655-8 or his 'Portrait of a young man', about 1663-4, both of which are in London's National Gallery. (Click here to see the latter.)
It is possible that these stirrups are based on the design of these shoes and were made by or for Dutch colonialists in South America in the seventeenth century or later. The Dutch established their own colony of Suriname in South America, which borders Brazil, in 1665 when they expelled the British. Dutch remains Suriname's official language. The Dutch brought in workers from their other colonies, and today around 15% of Suriname's population is ethnically Javanese.
The stirrups show evidence of wear particularly to the toes. Each has been cast with a round hole to the sole, presumably to allow water to drain when the rider was out in wet conditions. Overall, they are highly decorative, well cast and with an excellent, deep patina.
References
Ribera, A.L., & H.H. Schenone, Plateria Sudamericana de los Siglos XVII-XX, Himer Verlag Munchen, 1981.
Taullard, A., Plateria Sudamericana, Ediciones Espuela de Plata, 2004.
Castilho, M., Orient – Ocidente 2, Lisbon, 2010.