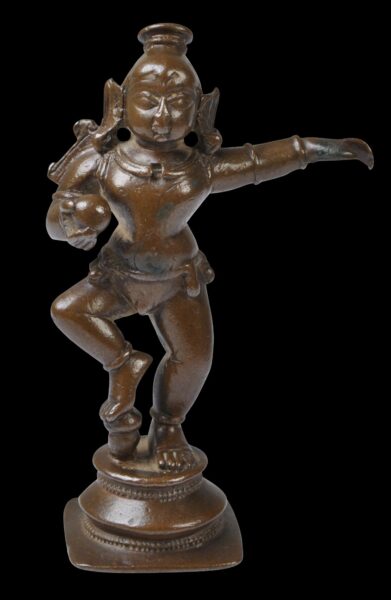 7289
Enquiry about object: 7289
South Indian Bronze Image of the Infant Krishna Dancing
Tamil Nadu, South India 17th-18th century
height: 8.1cm, width: 5.3cm, weight: 109g
This small, solid cast bronze image of the infant Krishna stands with his left foot on a tiered pedestal, his right foot is poised to dance, and his left arm is raised in gaja mudra. The right hand holds a butterball (after having raided his mother's larder, according to legend.)
The image's body is naked other than for items of cast jewellery including prominent ear ornaments.
Krishna also wears a tiered hair ornament or hair bun.
This dynamically cast piece has soft contours from time and puja use, and a dark patina commensurate with its age.
References
Pal, P., Art from the Indian Subcontinent: Asian Art at the Simon Norton Museum, Volume 1, Yale University Press, 2003.