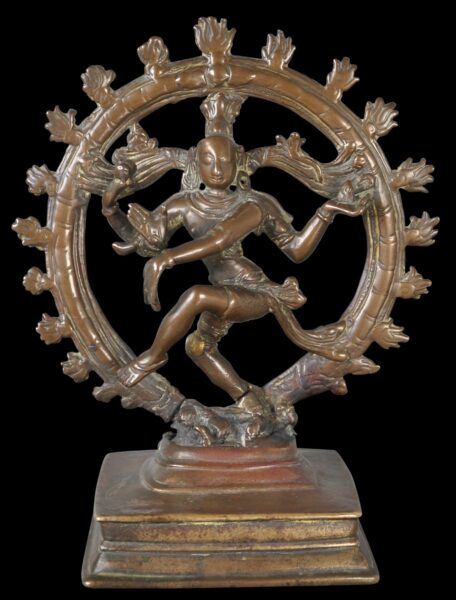 9361
Enquiry about object: 9361
Bronze Image of Shiva as Nataraja, Lord of Dance
South India circa 15th century
height: 19.4cm, width: 15.5cm, depth: 10cm, weight: 775g
This image of Shiva as Nataraja with its splendid patina exhibiting much ritual wear dates to around the fifteenth century. Shiva has a dynamic pose, is finely rendered, and thrusts out of the surrounding aureole in a robust, dimensional manner.
Shiva dances atop the figure of the dwarf Apasmara with his left leg raised and his principal right hand in abhayamudra. His principal left hand points towards his raised foot. In his free hands, he holds a flaming oil lamp and a small ritual drum (damaru). A snake is coiled around a third hand.
A flaming aureole surrounds Shiva, halo-like. A ribbon flows from Shiva's waist to the aureole, as does long strands of his hair. The tall chignon atop Shiva's head is typical of pieces from this period.
The group rises from a low oval platform, which rises from a tiered, square platform.
Shiva is cast finely with numerous bracelets, anklets and other jewellery.
Shiva, as the Lord of Dance, performs the tandava, the dance in which the universe was created. The small drum symbolises the creation and perpetuation of the universe. The flame in Shiva's hand represents the final dissolution of form, from which a new universe will be formed. Shiva's dance on dwarf Apasmara symbolises Shiva's victory over ignorance.
The image is earlier than the base, and yet the base has obvious age. It seems that the image was much revered and treasured and so with damage or loss to the original base and lower section that would have come with much puja wear, the owner has had it mounted in a new base. The base itself probably dates to the around the 17th-18th century.
Most extant, smaller images of Shiva as Nataraja that are commercially available are either new or twentieth century, no matter how they are described.
Overall, the image here is a fine example of a good-sized Nataraja bronze with a lovely melted-chocolate like patina. It is an example with very obvious age.
References
Dehejia, V., The Sensuous and the Sacred: Chola Bronzes from South India, American Federation of Arts/Mapin, 2003.
Guy, J., et al., Chola: Sacred Bronzes of Southern India, Royal Academy of Arts, 2007.
Harle, J.C. & A. Topsfield, Indian Art in the Ashmolean Museum, Ashmolean Museum, 1987.