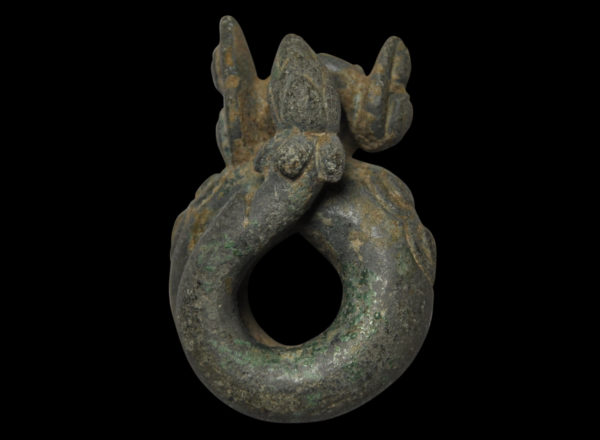 4471
Enquiry about object: 4471
Bronze Spiral Ear Ornament or Stone Mason's Plumb Weight with Lotus Bud Finials
Cambodia circa 10th-12th century
height: 6cm, weight: 164g
Provenance
private London collection
This very fine bronze spiral ornament has been cast as a curling, fleshy lotus stalk, which, with lotus bud terminals, almost takes on the appearance of a coiled serpent or naga. The ornament is too thick, big and heavy for human wear; instead it would have adorned a statue as an ear ornament.
Somkiart (2015, p. 463) however argues that these ornaments were not meant for the ear (on a statue or otherwise) but in fact were weights to be used on a plumb line in construction. He argues that the ornaments are too impractical to be worn on the ear (statue or human) and also that have often been found with leather rope remnants attached and have been uncovered in the vicinity of other construction tools. He illustrates a range of similar such objects.
It dates to around the 10th-12th century of Cambodia's Angkor period.
It is in excellent condition, with a fine crystalised surface patina.
References
Richter, A., The Jewelry of Southeast Asia, Thames & Hudson, 2000.
Somkiart Lopetcharat, Lopburi and Thavaravadi Sculptures in Thailand, Siam International Book Company, 2015.