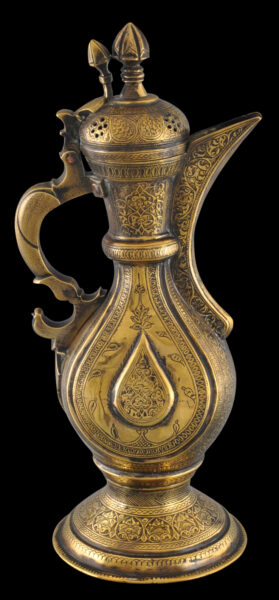 6817
Enquiry about object: 6817
Bukharan Brass Teapot or Ewer
Bukhara, Central Asia 19th century
height: 33.2cm, weight: 1,203g
This Bukharan-style brass teapot is finely engraved.
The teapot is beautifully engraved with flowers, tendrils and leaf motifs. Each side is cast with a two-tiered almond-shaped lozenge, the centres of which are densely engraved with interlocking tendrils.
The flared foot is engraved with a band of flower motifs and other patterns.
Everywhere there are fine borders of the Central Asian almond motif – a symbol of prosperity and fertility.
The 'S' shaped handle is in the form of a highly stylised dragon or makara figure. The hinged lid or cover is pierced and has a lotus bud finial adjacent to another which tops the hinge flange.
The lid has small pebbles enclosed which jangle when the teapot is poured.
This vessel is a teapot rather than a coffeepot (even though its form is conventionally more of a coffeepot) because tea was the traditional hot beverage in Bukhara; coffee was not.
Overall, this is an excellent example of Central Asian metalwork. The vessel has a warm, golden patina and is free of dents or any other damage.
References
Kalter, J. and Pavaloi, M., Uzbekistan: Heirs to the Silk Road, Thames & Hudson, 1997.