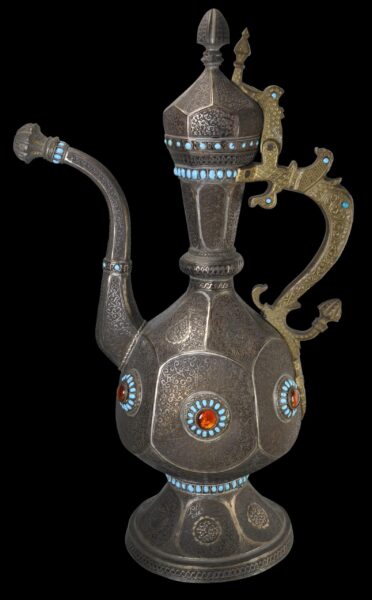 9362
Enquiry about object: 9362
Bukharan Noble's Turquoise-inlaid & Finely Engraved Ewer
Bukhara, Uzbekistan, Central Asia late 19th century
height: 37.8cm, length (from sprout to handle): 23.5cm, weight: 1,758g
This impressive, six-sided ewer is from 19th century Bukhara, Central Asia, and most probably was made in a palace workshop. It is among the finest examples of Bukharan utilitarian metalwork to have been published.
Kalter (1997, p. 328) illustrates a near-identical example undoubtedly by the same maker which he attributes to late 19th century Bukhara and 'made for court circles'.
Such ewers were to hold water and used in conjunction with a basin as a wash set.
It is of cast and hammered brass that has been partly tinned and possibly silvered. The craftsman has used the tinned or silvered and untinned areas to great effect.  It has been engraved very finely all over with interlaced arabesques, roundels and tear-shaped cartouches infilled with more arabesques.
The body of the ewer has six sides, each one of which is set with a raised, gilded rosette embellished with large foiled, amber-colour glass cabochon surrounded by oval-shaped turquoise cabochons.
The ewer sits on a wide foot, has an 'S'-shaped spout that terminates with a bulbous finial, and a six-sided, domed, hinged cover with a large bud-like finial.
The extravagant handle is in highly stylised makara or dragon form.
The spout, the handle and the lid are all set with turquoise cabochons.
The ewer is in excellent condition. It has a good patina and obvious age. All the stones are intact.
References
Kalter, J. (ed.), Uzbekistan: Heirs to the Silk Road, Thames & Hudson, 1997.