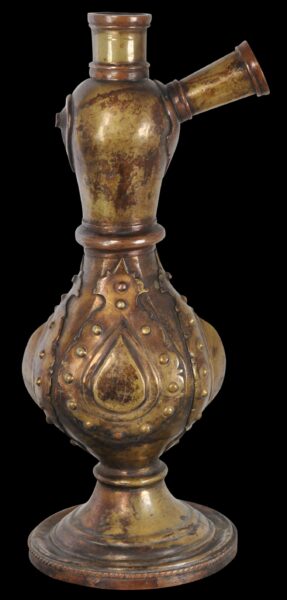 8581
Enquiry about object: 8581
Rare Bukharan Gilded Copper (Tombak) Hookah Base or Vase
Bukhara, Uzbekistan, Central Asia 18th century
height: 36.9cm, diameter (of base): 14.4cm, weight: 1,463g
This rare, tall hookah base is one of the finest examples of its type that we have seen. It is of gilded or gilt (gold-plated) copper known as tombak. The fashion for tombak developed in Ottoman Turkey in the 16th century and spread to related parts of the Islamic world from there. It was used as a status symbol and important figures, such as sultans or viziers, used items so decorated.
The body of the hookah is of elongated, flattened, onion form, and is decorated with dramatic almond-shaped lozenges in relief, that have been riveted to the body with  rivets. The base sits on a tiered, founded foot.
The top has several apertures to allow the various hose pipe to be attached to allow the base to function as a hookah.
The form is based on the bottle gourd found around Bukhara and has little relationship to the hookah bases used in northern India for example. But similarly, it was filled with water to allow the tobacco smoke to be bubbled through to 'cleanse' it.
Examples of this form are illustrated in Kalter (1997, p. 319, 330). However, it was rare for examples to be made entirely from metal, this being reserved for only the more 'expensive' examples (Kalter, p. 329).
The Emirate of Bukhara was officially created in 1785, upon the assumption of rulership by the Manghit emir, Shah Murad. Shahmurad, formalised the family's dynastic rule (Manghit dynasty), and the khanate became the Emirate of Bukhara. Prior to this, Bukhara was controlled by Persia for several decades.
The example here is in excellent condition and has a wonderful patina. The surface has a pleasing softness from use and handling.
The underside of the base is stamped with a mark which in Arabic reads in part 'Kandahar'. Either this is a maker's or a retailer's mark, or an inventory mark. Kandahar is in Afghanistan. It is possible that the vessel here was made in Afghanistan in a Bukharan style. More probably, it was made in Bukhara and was traded to Kandahar where it was stamped. Another possibility, is that it was made in Kandahar but by a maker-retailer that used the name Kandahar to suggest foreign prestige!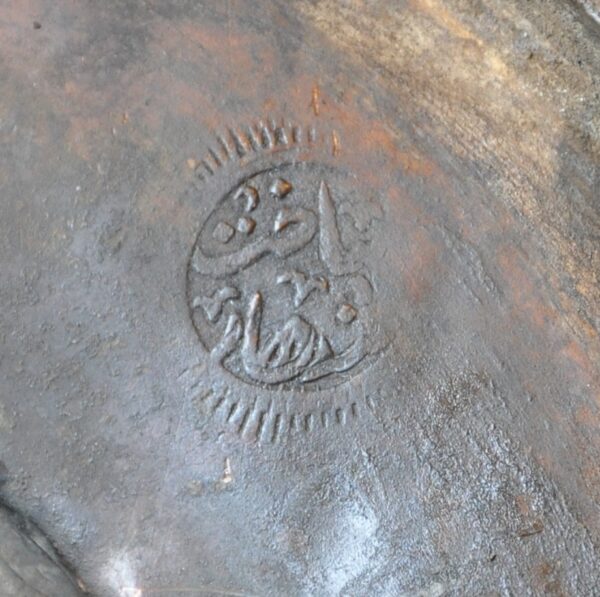 The stamp to the underside of the base.
Scroll down for more images.
References
Kalter, J. (ed.), Uzbekistan: Heirs to the Silk Road, Thames & Hudson, 1997.
Seif El Rashidi, pers. comm., London.