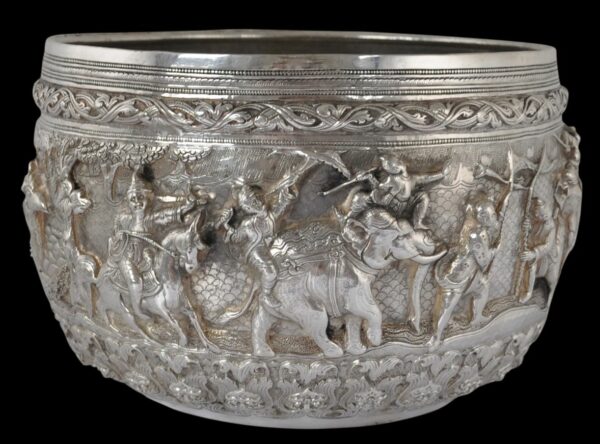 6576
Enquiry about object: 6576
Fine, Burmese Repoussed Silver Bowl
Burma circa 1890
width: approximately 23cm, height: approximately 14.5cm, weight: 1,153g
– scroll down to see further images –
This is a fine Burmese silver bowl. The three-dimensional quality of the silverwork is excellent, and is not quite captured in the photographs here.
The repousse work shows two long scenes and a shorter one. The main scene is an epic battle scene fight between riders on elephants. Another shows a royal couple departing on a royal barge. And another shows a Burmese traditional bullock driven wooden cart.
Princely figures on horse and elephant back are shown in battle – possibly this is a battle scene depicting King Anawrahta, the first king of all Burma (reigned 1044-77), who introduced his people to Theravada Buddhism. His capital at Pagan (Bagan) on the Irrawaddy (Ayeyarwaddy) River became a prominent city of pagodas and temples. He is often depicted in Burmese artwork on horseback.
The fluidity and dynamism of the work on the bowl is is complex and masterful. Both the upper and lower borders are also fine. The upper band comprises a vine twist motifs. The lower register comprises a leafy border rising from a series of protective masks.
The base is engraved with a peacock in a roundel.
Bowls such as these had no ceremonial or religious use; they are purely decorative. Their shape is supposedly based on Burmese monks' begging or alms bowls (one of the eight parikkharas or possessions allowed a monk). Such a monk's bowl is known as a thabeik in Burma. In turn, such bowls are based on a bowl that the Buddha himself is said to have used. But although the shape of such bowls is based on the monk's begging bowl, ironically, Burmese monks are prohibited from touching gold or silver. Accordingly, Burmese silversmiths did not use their skills on religious objects unlike silversmiths in other Buddhist lands such as Tibet or Sri Lanka.
Overall, this bowl is a very fine work of art. Importantly, it was acquired in the UK and most probably has been in the UK since the colonial era. It is without significant dents, splits or repairs. Unlike with many extant Burmese bowls, the details of the figures are crisp and show little or no sign of having been polished down over the decades.
References
Fraser-Lu, S., Silverware of South-East Asia, Oxford University Press, 1989.
Fraser-Lu, S., Burmese Crafts: Past and Present, Oxford University Press, 1994.
Tilly, H.L., The Silverwork of Burma (with Photographs by P. Klier), The Superintendent, Government Printing, 1902.
Tilly, H.L., Modern Burmese Silverwork (with Photographs by P. Klier), The Superintendent, Government Printing, 1904.